/ Djibouti
/ history
Djibouti History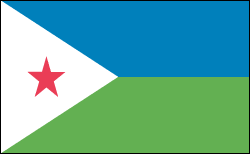 Index
History
The Vital Port of Djibouti Receives International Aid
In April 2000, experts estimated some 150,000 people, or more than one-quarter of the population, needed food aid. The UN agreed to spend $2.7 million to increase the city of Djibouti's port facilities since it is a crucial regional grain terminus. In 2002, Djibouti became a key U.S. military base used to combat terrorism. In 2005, President Guelleh, running unopposed, was reelected.
In parliamentary elections in Feb. 2008, which were boycotted by the three main opposition parties, the ruling Union for the Presidential Majority won 94.1% of the vote, taking all 65 seats.
In 2010, Parliament approved a constitutional amendment that allowed the president to run for a third term. However, it reduced the term from six years to five. Presidential elections in 2011 saw incumbent Ismail Omar Guelleh win a third term with 80.6% of the vote and a turnout of 69.7%. The opposition participated in parliamentary elections in Feb. 2013, the first time since its boycott in 2003. However, the governing Union for the Presidential Majority won 49 out of 65 seats, and the opposition denounced the results.
See also Encyclopedia: Djibouti
U.S. State Dept. Country Notes: Djibouti
Ministry of the Economy, Finances, and Privitization Planning http://www.ministere-finances.dj/ (in French).
---