/ Hungary
Hungary
Facts & Figures

President: Janos Ader (2012)

Prime Minister: Viktor Orban (2010)

Land area: 35,653 sq mi (92,341 sq km); total area: 35,919 sq mi (93,030 sq km)

Population (2014 est.): 9,919,128 (growth rate: –0.21%); birth rate: 9.26/1000; infant mortality rate: 5.09/1000; life expectancy: 75.46

Capital and largest city (2011 est.): Budapest, 1.737 million

Monetary unit: Forint

National name: Magyar Köztársaság

Languages: Magyar (Hungarian) 84.6%, other 16.4%

Ethnicity/race: Hungarian 92.3%, Roma 1.9%, other or unknown 5.8% (2001)

Religions: Roman Catholic 37.2%, Calvinist 11.6%, Lutheran 2.2%, Greek Catholic 1.8%, other 1.9%, none 18.2%, unspecified 27.2% (2011 est.)

National Holiday: Saint Stephen's Day, August 20

Literacy rate: 99% (2011 est.)

Economic summary: GDP/PPP (2013 est.): $196.6 billion; per capita $19,800 Real growth rate: 0.2%. Inflation: 1.9%. Unemployment: 10.5%. Arable land: 47.24%. Agriculture: wheat, corn, sunflower seed, potatoes, sugar beets; pigs, cattle, poultry, dairy products. Labor force: 4.263 million; agriculture 7.1%, industry 29.7%, services 63.2% (2010). Industries: mining, metallurgy, construction materials, processed foods, textiles, chemicals (especially pharmaceuticals), motor vehicles. Natural resources: bauxite, coal, natural gas, fertile soils, arable land. Exports: $92.98 billion (2013 est.): machinery and equipment 53.5%, other manufactures 31.2%, food products 8.7%, raw materials 3.4%, fuels and electricity 3.9% (2012). Imports: $89.52 billion (2013 est.): machinery and equipment 45.4%, other manufactures 34.3%, fuels and electricity 12.6%, food products 5.3%, raw materials 2.5% (2012). Major trading partners: Germany, Austria, France, Italy, UK, Romania, Poland, Russia, Netherlands, China, Slovakia (2012).

Communications: Telephones: main lines in use: 2.96 million (2012); mobile cellular: 11.58 million (2012). Broadcast media: mixed system of state-supported public service broadcast media and private broadcasters; the 3 publicly-owned TV channels and the 2 main privately-owned TV stations are the major national broadcasters; a large number of special interest channels; highly developed market for satellite and cable TV services with about two-thirds of viewers utilizing their services; 3 state-supported public-service radio networks and 2 major national commercial stations; a large number of local stations including commercial, public service, nonprofit, and community radio stations; digital transition postponed to the end of 2014 (2007). Internet hosts: 3.145 million (2012). Internet users: 6.176 million (2009).

Transportation: Railways: total: 8,057 km (2009). Roadways: total: 199,567 km; paved: 76,075 km (including 911 km of expressways); unpaved: 123,492 km (2010). Waterways: 1,622 km (most on Danube River) (2011). Ports and harbors: Budapest, Dunaujvaros, Gyor-Gonyu, Csepel, Baja, Mohacs. Airports: 41 (2013).

International disputes: bilateral government, legal, technical and economic working group negotiations continue in 2006 with Slovakia over Hungary's failure to complete its portion of the Gabcikovo-Nagymaros hydroelectric dam project along the Danube; as a member state that forms part of the EU's external border, Hungary has implemented the strict Schengen border rules.
Next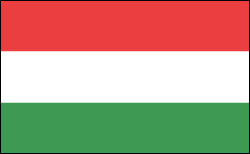 Index
---