/ Kiribati
/ history
Kiribati History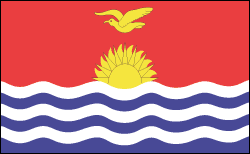 Index
History
Kiribati Enacts Controversial Legislation
Kiribati's 1995 act of moving the international date line far to the east, so that it encompassed Kiribati's Line Islands group, courted controversy. The move, which fulfilled one of President Tito's campaign promises, was intended to enable Kiribati to become the first country to see the dawn on Jan. 1, 2000, and welcome the new millennium—an event of significance for tourism. In 1999, Kiribati gained UN membership.
In 2002, Kiribati passed a controversial law enabling it to shut down newspapers. The legislation followed the launching of Kiribati's first successful nongovernment-run newspaper. Anote Tong of the opposition party, Boutokaan Te Koaua, was elected president in 2003. He was reelected in 2007 and again in 2012.
Climate change and rising sea levels have threatened the very existence of Kiribati, which consists of 32 low-lying islands that are only about 10 feet above sea level and a mere 1.2 miles wide, leaving little room for residents to retreat from the eroding shoreline. A rise in temperatures, drought, and the attendant depletion of freshwater have put a strain on the economy and the well-being of residents.
As part of a plan for "migration with dignity," President Tong finalized the purchase of 6,000 acres on the Fiji island of Vanua Levu for more than $8 million during the summer of 2014.
See also Encyclopedia: Kiribati .
U.S. State Dept. Country Notes: Kiribati
---