/ Liberia
/ News and current events
Liberia News & Current Events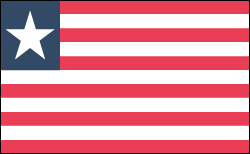 Index
News and Current Events
Liberia Elects Africa's First Female President
In a Nov. 2005 presidential runoff election, Ellen Johnson-Sirleaf, a Harvard-educated economist who had worked at the World Bank, defeated George Weah, a former world-class soccer star. In Jan. 2006 she became Africa's first female president.
Taylor Convicted of War Crimes
In 2006, former president Taylor, in exile in Nigeria, was turned over to an international court in The Hague to face trial on charges of crimes against humanity for supporting rebel troops in Sierra Leone's brutal civil war that claimed the lives of about 300,000 people in the 1990s. The rebels were seeking control of Sierra Leone's rich diamond fields to finance their acquisition of arms. His trial opened in June 2007. In April 2012, after deliberating for more than a year, the court, made up of three judges from Ireland, Samoa, and Uganda, convicted Taylor of aiding and abetting war crimes and crimes against humanity, including murder, rape, sexual slavery, and the conscription of child soldiers. His conviction is the first by an international court since the Nuremberg trials. He was sentenced to 50 years in prison.
Gyude Bryant, who was president of Liberia from 2003 to 2005 during the transition period after the 14-year civil war, was cleared of embezzlement charges in May 2009. He was accused of stealing about $1 million while in office.
Johnson-Sirleaf, along with Leymah Gbowee, also of Liberia, and Tawakkul Karman, of Yemen, won the 2011 Nobel Peace Prize in October "for their non-violent struggle for the safety of women and for women's rights to full participation in peace-building work." She won the prize during her bid for reelection. In the first round of voting, she took 44% of the vote. Her opponent in the second round, Winston Tubman, a former UN official, withdrew from the race, claiming the first round was rigged. Election authorities did not find evidence of fraud. Johnson-Sirleaf sailed to victory in the second round, winning 90% of the vote. Turnout was quite low?33%.
Ebola Outbreak Kills Hundreds
An outbreak of Ebola hit Liberia in May 2014. By the end of August the disease is estimated to have killed nearly 700 people in Liberia, and there were nearly 1,400 suspected and confirmed cases of it in the country, according to the Centers for Disease Control. The outbreak was particularly bad in parts of Monrovia, and the government quarantined the crowded, poor West Point neighborhood, which was hard hit. Residents protested the quarantine and clashed with police. In late August, the World Health Organization declared the outbreak an international emergency. It is the worst outbreak since the virus was first identified almost 40 years ago.
See also Encyclopedia: Liberia .
U.S. State Dept. Country Notes: Liberia
---