/ Pakistan
Pakistan
Facts & Figures

President: Arif Alvi (2018)

Prime minister: Shehbaz Sharif (2022)

Land area: 297,636 sq mi (770,875 sq km); total area: 307,373 sq mi (796,095 sq km)1

Population (2022 est.): 242,923,845 (growth rate: 1.95%); birth rate: 26.48/1000; infant mortality rate: 53.98/1000; life expectancy: 69.67

Capital (2022 est.): Islamabad, 1.198 million

Largest cities: Karachi 16.840 million; Lahore 13.542 million; Faisalabad 3.625 million; Gujranwala, 2.353 million; Peshawar, 2.343 million (2022)

Monetary unit: Pakistan rupee

Principal languages: Punjabi 48%, Sindhi 12%, Saraiki (a Punjabi variant) 10%, Pashto (alternate name, Pashtu) 8%, Urdu (official) 8%, Balochi 3%, Hindko 2%, Brahui 1%, English (official; lingua franca of Pakistani elite and most government ministries), Burushaski, and other 8%

Ethnicity/race: Punjabi 44.7%, Pashtun (Pathan) 15.4%, Sindhi 14.1%, Saraiki 8.4%, Muhajirs 7.6%, Balochi 3.6%, other 6.3%

Religions: Muslim (official) 96.5% (Sunni 85-90%, Shia 10-15%), other (includes Christian and Hindu) 3.5% (2020 est.)

National Holiday: Republic Day, March 23

Literacy rate: 58% (2019 est.)

Economic summary GDP/PPP (2020 est.): $1,021,130,000,000; per capita $4,600. Real growth rate: 5.4%. Inflation: 9.3%. Unemployment: 6% plus substantial underemployment. Arable land: 27.6%. Agriculture: cotton, wheat, rice, sugarcane, fruits, vegetables; milk, beef, mutton, eggs. Labor force: 61.71 million; note: extensive export of labor, mostly to the Middle East, and use of child labor; agriculture 42.3%, industry 22.6%, services 35.1% (2017 est.). Industries: textiles and apparel, food processing, pharmaceuticals, construction materials, paper products, fertilizer, shrimp. Natural resources: land, extensive natural gas reserves, limited petroleum, poor quality coal, iron ore, copper, salt, limestone. Exports: $27.3 billion (2020 est.): textiles (garments, bed linen, cotton cloth, yarn), rice, leather goods, sports goods, chemicals, manufactures, carpets and rugs. Major trading partners (exports): United States 14%, China 8%, Germany 7%, United Kingdom 6% (2019). Imports: $51.07 billion (2020 est.): petroleum, petroleum products, machinery, plastics, transportation equipment, edible oils, paper and paperboard, iron and steel, tea. Major trading partners: China 28%, United Arab Emirates 11%, United States 5% (2019)

Communications: Telephones: main lines in use: 2,876,794 (2020); mobile cellular: 175,624,364 (2020). Broadcast media:media is government regulated; 1 dominant state-owned TV broadcaster, Pakistan Television Corporation (PTV), operates a network consisting of 5 channels; private TV broadcasters are permitted; to date 69 foreign satellite channels are operational; the state-owned radio network operates more than 40 stations; nearly 100 commercially licensed privately owned radio stations provide programming mostly limited to music and talk shows (2007). Internet hosts: 365,813 (2012). Internet users: 55,223,083 (2020).

Transportation: Railways: total: 11,881 km (2021). Roadways: total: 264,175 km; paved: 185,463 km (including 708 km of expressways); unpaved: 78,712 km (2021). Ports and harbors: Karachi, Port Muhammad bin Qasim. Airports: 151 (2021).

International disputes: various talks and confidence-building measures cautiously have begun to defuse tensions over Kashmir, particularly since the October 2005 earthquake in the region; Kashmir nevertheless remains the site of the world's largest and most militarized territorial dispute with portions under the de facto administration of China (Aksai Chin), India (Jammu and Kashmir), and Pakistan (Azad Kashmir and Northern Areas); UN Military Observer Group in India and Pakistan has maintained a small group of peacekeepers since 1949; India does not recognize Pakistan's ceding historic Kashmir lands to China in 1964; India and Pakistan have maintained their 2004 cease-fire in Kashmir and initiated discussions on defusing the armed standoff in the Siachen glacier region; Pakistan protests India's fencing the highly militarized Line of Control and construction of the Baglihar Dam on the Chenab River in Jammu and Kashmir, which is part of the larger dispute on water sharing of the Indus River and its tributaries; to defuse tensions and prepare for discussions on a maritime boundary, India and Pakistan seek technical resolution of the disputed boundary in Sir Creek estuary at the mouth of the Rann of Kutch in the Arabian Sea; Pakistani maps continue to show the Junagadh claim in India's Gujarat State; since 2002, with UN assistance, Pakistan has repatriated 3.8 million Afghan refugees, leaving about 2.6 million; Pakistan has sent troops across and built fences along some remote tribal areas of its treaty-defined Durand Line border with Afghanistan, which serve as bases for foreign terrorists and other illegal activities; Afghan, Coalition, and Pakistan military meet periodically to clarify the alignment of the boundary on the ground and on maps.
Next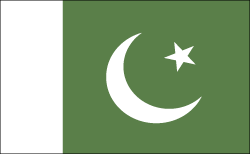 Index
---