/ Thailand
Thailand
Facts & Figures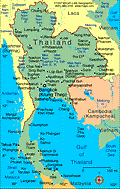 Ruler: King Bhumibol Adulyadej (1946)

Prime Minister: Gen. Prayuth Chan-ocha (2014)

Land area: 197,595 sq mi (511,771 sq km); total area: 198,455 sq mi (514,000 sq km)

Population (2014 est.): 67,741,401 (growth rate: 0.35%); birth rate: 11.26/1000; infant mortality rate: 9.86/1000; life expectancy: 74.18

Capital and largest city (2011): Bangkok, 8.426 million

Monetary unit: baht

Languages: Thai (official) 90.7%, Burmese 1.3%, Other 8%, English (secondary language of the elite) (2010 est.)

Ethnicity/race: Thai 95.9%, Burmese 2%, other 1.3%, unspecified 0.9% (2010 est.)

Religions: Buddhist (official) 93.6%, Muslim 4.9%, Christian 1.2%, other 0.2%, none 0.1% (2010 est.)

Literacy rate: 93.5% (2005 est.)

Economic summary: GDP/PPP (2013 est.): $673 billion; per capita $9,900. Real growth rate: 2.9%. Inflation: 2.2%. Unemployment: 0.7%. Arable land: 30.71%. Agriculture: rice, cassava (manioc, tapioca), rubber, corn, sugarcane, coconuts, soybeans. Labor force: 39.38 million (2013 est.); agriculture 38.2%, industry 13.6%, services 48.2% (2011 est.). Industries: tourism, textiles and garments, agricultural processing, beverages, tobacco, cement, light manufacturing such as jewelry and electric appliances, computers and parts, integrated circuits, furniture, plastics, automobiles and automotive parts; world's second-largest tungsten producer and third-largest tin producer. Natural resources: tin, rubber, natural gas, tungsten, tantalum, timber, lead, fish, gypsum, lignite, fluorite, arable land. Exports: $225.4 billion (2013 est.): electronics, computer parts, automobiles and parts, electrical appliances, machinery and equipment, textiles and footwear, fishery products, rice, rubber. Imports: $219 billion (2013 est.): capital goods, intermediate goods and raw materials, consumer goods, fuels. Major trading partners: U.S., Japan, China, Singapore, Hong Kong, Malaysia, Indonesia, UAE, Australia (2012).

Communications: Telephones: main lines in use: 6.391 million (2012); mobile cellular: 84.075 million (2012). Broadcast media: 6 terrestrial TV stations in Bangkok broadcast nationally via relay stations - 2 of the networks are owned by the military, the other 4 are government-owned or controlled, leased to private enterprise, and are all required to broadcast government-produced news programs twice a day; multi-channel satellite and cable TV subscription services are available; radio frequencies have been allotted for more than 500 government and commercial radio stations; many small community radio stations operate with low-power transmitters (2008). Internet Service Providers (ISPs): 3.399 million (2012). Internet users: 17.483 million (2009).

Transportation: Railways: total: 4,071 km (2008). Highways: total: 180,053 km (2006 est.). Waterways: 4,000 km principal waterways; 3,701 km with navigable depths of 0.9 m or more throughout the year; numerous minor waterways navigable by shallow-draft native craft (2011). Ports and harbors: Bangkok, Laem Chabang, Map Ta Phut, Prachuap Port, Si Racha. Airports: 101 (2013).

International disputes: Separatist violence in Thailand's predominantly Muslim southern provinces prompt border closures and controls with Malaysia to stem terrorist activities; Southeast Asian states have enhanced border surveillance to check the spread of avian flu; talks continue on completion of demarcation with Laos but disputes remain over several islands in the Mekong River; despite continuing border committee talks, Thailand must deal with Karen and other ethnic rebels, refugees, and illegal cross-border activities, and as of 2006, over 116,000 Karen, Hmong, and other refugees and asylum seekers from Burma; Cambodia and Thailand dispute sections of boundary; in 2011 Thailand and Cambodia resorted to arms in the dispute over the location of the boundary on the precipice surmounted by Preah Vihear temple ruins, awarded to Cambodia by ICJ decision in 1962 and part of a planned UN World Heritage site; Thailand is studying the feasibility of jointly constructing the Hatgyi Dam on the Salween river near the border with Burma; in 2004, international environmentalist pressure prompted China to halt construction of 13 dams on the Salween River that flows through China, Burma, and Thailand; 140,000 mostly Karen refugees fleeing civil strife, political upheaval and economic stagnation in Burma live in remote camps in Thailand near the border.
Next
Index
---