/ Trinidad and Tobago
Trinidad and Tobago
Facts & Figures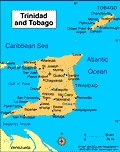 President: Anthony Carmona (2013)

Prime Minister: Keith Rowley (2015)

Total area: 1,981 sq mi (5,131 sq km)

Population (2014 est.): 1,223,916 (growth rate: –0.086%); birth rate: 13.8/1000; infant mortality rate: 24.82/1000; life expectancy: 72.29; density per sq mi: 659.2

Capital and largest city (2011 est.): Port-of-Spain, 66,000

Monetary unit: Trinidad and Tobago dollar

Languages: English (official), Hindi, French, Spanish, Chinese

Ethnicity/race: East Indian 35.4%, African 34.2%, mixed - other 15.3%, mixed African/East Indian 7.7%, other 1.3%, unspecified 6.2% (2011 est.)

Religions: Protestant 32.1% (Pentecostal/Evangelical/Full Gospel 12%, Baptist 6.9%, Anglican 5.7%, Seventh-Day Adventist 4.1%, Presbyterian/Congretational 2.5, other Protestant .9), Roman Catholic 21.6%, Hindu 18.2%, Muslim 5%, Jehovah's Witness 1.5%, other 8.4%, none 2.2%, unspecified 11.1% (2011 est.)

Literacy rate: 98.8% (2011 est.)

Economic summary: GDP/PPP (2013 est.): $27.14 billion; per capita $20,300. Real growth rate: 1.6%. Inflation: 5.4%. Unemployment: 5.9%. Arable land: 4.87%. Agriculture: cocoa, rice, citrus, coffee, vegetables; poultry; sugar. Labor force: 621,000 (2013 est.); construction and utilities 20.4%, manufacturing, mining, and quarrying 12.8%, agriculture 3.8%, services 62.9% (2007 est.). Industries: petroleum and petroleum products, liquefied natural gas (LNG), methanol, ammonia, urea, steel products, beverages, food processing, cement, cotton textiles. Natural resources: petroleum, natural gas, asphalt. Exports: $12.86 billion (2013 est.): petroleum and petroleum products, liquefied natural gas, methanol, ammonia, urea, steel products, beverages, cereal and cereal products, sugar, cocoa, coffee, citrus fruit, vegetables, flowers. Imports: $9.638 billion (2013 est.): mineral fuels, lubricants, machinery, transportation equipment, manufactured goods, food, chemicals, live animals. Major trading partners: U.S., Brazil, Gabon, China, Canada, Spain, Chile, Argentina, Colombia (2012).

Member of Commonwealth of Nations

Communications: Telephones: main lines in use: 287,000 (2012); mobile cellular: 1.884 million (2012). Radio broadcast stations: 5 TV networks, one of which is state-owned, broadcast on multiple stations; multiple cable TV subscription service providers; multiple radio networks, one state-owned, broadcast over about 35 stations (2007). Radios: 680,000 (1997). Television broadcast stations: 4 (1997). Televisions: 425,000 (1997). Internet Service Providers (ISPs): 241,690 (2012). Internet users: 593,000 (2009).

Transportation: Railways: minimal agricultural railroad system near San Fernando; railway service was discontinued in 1968 (2001). Highways: total: 8,320 km; paved: 4,252 km; unpaved: 4,068 km (2001). Ports and harbors: Point Fortin, Point Lisas, Port-of-Spain, Scarborough. Airports: 4 (2013).

International disputes: Barbados and Trinidad and Tobago abide by the April 2006 Permanent Court of Arbitration decision delimiting a maritime boundary and limiting catches of flying fish in Trinidad and Tobago's exclusive economic zone; in 2005, Barbados and Trinidad and Tobago agreed to compulsory international arbitration under United Nations Convention on the Law of the Sea challenging whether the northern limit of Trinidad and Tobago's and Venezuela's maritime boundary extends into Barbadian waters; Guyana has also expressed its intention to include itself in the arbitration as the Trinidad and Tobago-Venezuela maritime boundary may extend into its waters as well.
Next
Index
---