/ Zimbabwe
Zimbabwe
Facts & Figures
President: Robert Mugabe (1980)

Land area: 149,293 sq mi (386,669 sq km); total area: 150,804 sq mi (390,580 sq km)

Population (2014 est.): 13,771,721 (growth rate: 4.36%); birth rate: 32.47/1000; infant mortality rate: 26.55/1000; life expectancy: 55.68; density per sq mi: 57

Capital and largest city (2011 est.): Harare, 1.542 million

Other large cities: Bulawayo, 653,337; Chitungwiza, 356,840

Monetary unit: Zimbabwean dollar

Republic of Zimbabwe

Languages: English (official), Shona, Ndebele (Sindebele), numerous minor tribal dialects

Ethnicity/race: African 98% (Shona 82%, Ndebele 14%, other 2%), mixed and Asian 1%, white less than 1%

Religions: syncretic (part Christian, part indigenous beliefs) 50%, Christian 25%, indigenous beliefs 24%, Muslim and other 1%

Literacy rate: 83.6% (2011 est.)

Economic summary: GDP/PPP (2013 est.): $7.496 billion; per capita $600 (2013 est.). Real growth rate: 3.2%. Inflation: 8.5% (2013 est.). Unemployment: 95%. Arable land: 10.49%. Agriculture: corn, cotton, tobacco, wheat, coffee, sugarcane, peanuts; sheep, goats, pigs. Labor force: 3.939 million (2013); agriculture 66%, services 24%, industry 10% (1996). Industries: mining (coal, gold, platinum, copper, nickel, tin, clay, numerous metallic and nonmetallic ores), steel; wood products, cement, chemicals, fertilizer, clothing and footwear, foodstuffs, beverages. Natural resources: coal, chromium ore, asbestos, gold, nickel, copper, iron ore, vanadium, lithium, tin, platinum group metals. Exports: $3.144 billion (2013 est.): platinum, cotton, tobacco, gold, ferroalloys, textiles/clothing. Imports: $4.571 billion (2013 est.): machinery and transport equipment, other manufactures, chemicals, fuels, food products. Major trading partners: South Africa, China, Democratic Republic of Congo, Italy Botswana (2012).

Communications: Telephones: main lines in use: 301,600 (2012); mobile cellular: 12.614 million (2012). Radio broadcast stations: Government owns all local radio and TV stations; foreign shortwave broadcasts and satellite TV are available to those who can afford antennas and receivers; in rural areas, access to TV broadcasts is extremely limited (2007). Radios: 1.14 million (1997). Television broadcast stations: 16 (1997). Televisions: 370,000 (1997). Internet Service Providers (ISPs): 30,615 (2012). Internet users: 1.423 million (2009).

Transportation: Railways: total: 3,427 km (2008). Highways: total: 97,267 km ; paved: 18,481 km ; unpaved: 78,786 km (2002 est.). Waterways: Some navigation possible on Lake Kariba (2011). Ports and harbors: Binga, Kariba. Airports: 196 (2013).

International disputes: Namibia has supported, and in 2004 Zimbabwe dropped objections to, plans between Botswana and Zambia to build a bridge over the Zambezi River, thereby de facto recognizing a short, but not clearly delimited, Botswana-Zambia boundary in the river; South Africa has placed military units to assist police operations along the border of Lesotho, Zimbabwe, and Mozambique to control smuggling, poaching, and illegal migration.
Next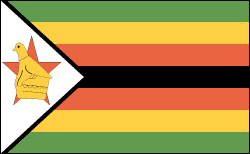 Index
---