/ World
World's 10 Highest Lakes By Elevation...& Where They Are!
Updated August 30, 2022 |
Factmonster Staff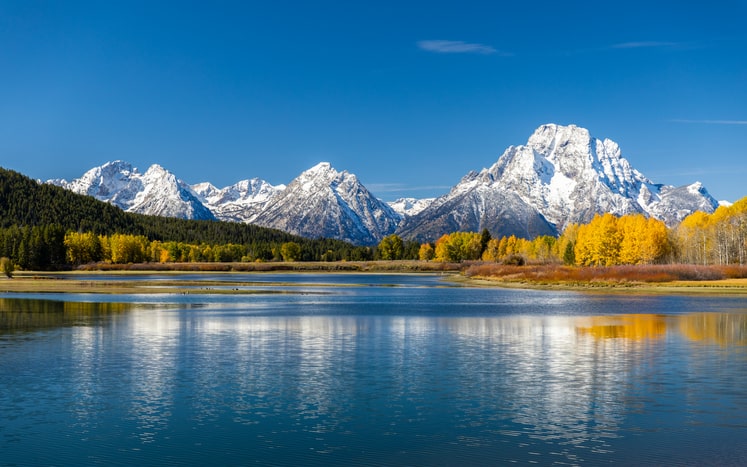 From Russia to Canada, Kenya to Nepal, the world is dotted with bodies of water. Whether you dip your toes into a large lake with fresh water or float in the saltwater salinity of an ocean, you can find many lovely lakes and ponds across the globe.
In this article, we look at the highest lakes on Earth. Although these entries might not include the largest freshwater lake or deepest lake in the world, each still fascinates due to their (often remote) locations and interesting geological features, as well as their height above sea level as the world's highest lake locations.
A lake can be defined in different ways. Some sources claim lakes are bodies of water larger than 2 acres. However, a lake typically has a larger surface area, including at least 1 hectare, or 100 meters by 100 meters, as has been recently proposed.
The following comprise the largest lakes in the world ranking, based on their elevation or altitude, so read on to find out about the highest expanses of water level above the Earth's surface!
N.B. – Rankings of lakes can differ according to their status. Some of the names on this list are considered "ex-lakes" as they have become extinct and do not meet the criteria to be classified as a lake or pool. However, we have combined both active and ex-lakes in this list.
1. Ojos del Salado
Location: Chile/Argentina border, South America    Elevation: 20,695 feet or 6,390 meters    Depth: Possibly 5 meters to 10 meters
Ojos del Salado ("Eyes of Salty Water" in Spanish) is the highest active volcano crater lake, but is quite small and, as such, raises contention about its status as a "lake". However, it was discovered in 1937 by Polish explorers and can be accessed from both the Argentinian and Chilean borders.
Due to its small diameter of less than 100 meters and a maximum depth of about 10 meters, it appears modest and underwhelming;  however, it attracts hikers and sightseers from all over the world.
It is the second highest mountain outside the Himalayas and is one of the Volcanic Seven Summits, which comprise the highest volcanoes on each continent.
2. Lhagba Pool
Location: Tibet Autonomous Zone, Asia    Elevation: 20,892 feet or 6,358 meters    Depth: Unknown
Situated a few miles north of Everest in Himalayan Tibet, Lhagba Pool was unknown to local inhabitants until it was discovered by a British Mount Everest reconnaissance expedition in 1921.
Lhagba Pool was, until recently, considered to be the second highest lake in the world. However, satellite images have shown the lake to have dried up, or gone extinct. It is only 180 meters long and 50 meters wide.
3. Changtse Pool
Location: Tibet, Asia     Elevation: 20,394 feet or 6,216 meters    Depth: Unknown
The Changtse Glacier is considered one of the most beautiful lakes in the world and is unified with Mount Everest. It was discovered in 1924 by George Mallory and Andrew Irvine while attempting to climb Everest on an expedition from which they did not return.
The Tibetan Changtse Pool is 230 meters wide with a length of around 180 meters. It is a pool of meltwater and some believe the source of the water to be a subsurface aquifer.
4. Tres Cruces Norte
Location: Chile, South America    Elevation: 20,361 feet or 6,206 meters    Depth: 12.1 meters
Located in the Andes, Tres Cruces Norte ("The Three Crosses North") is Chile's second highest lake after Ojos del Salado. It is a crater lake situated in a half-open caldera (formed when a volcano erupts and collapses) in the lowest of the Three Crosses.
Tres Cruces Norte is a popular location for scuba divers (along with trekkers). In 2015, a group of Polish divers called Madswimmers completed what is thought to be the highest swim in history in the lake. Indeed, Polish explorers have a special connection to the mountains, having been the first to reach the Tres Cruces peak in 1937.
5. Pular Pool
Location: Chile, South America    Elevation: 20,308 feet or 6,190 meters    Depth: 50 meters
Pular Pool is the second highest located in the Antofagasta area of northern Chile and is part of the Pular volcano. It is arid in nature however in winter the lake becomes frozen and displays its true beauty.
6. East Rongbuk Pool
Location: Tibet, Asia    Elevation: 20,013 feet or 6,100 meters    Depth: Unknown
East Rongbuk Pool in Tibet is a seasonal pool that forms due to melting snow and is named after the East Rongbuk glacier (which contributes to its formation).
It was found by the writer and mountaineer Graham Hoyland who came across the lake while traveling with an army in the Himalayas. The army wanted to blow up the glacier in order to navigate their way past it. However, monks from a monastery intervened to stop the army from doing so and thus preserving this geological marvel.
7. Cerro Walther Penck
Location: Argentina, South America    Elevation: 19,652 feet or 5,990 meters    Depth: Unknown
Cerro Walter Penck (also known as Cerro Cazadero or Cerro Tipas) belongs to the Cazadero volcano and lies in the Puna region which includes Ojos del Salado and Tres Cruces. The mountain is the 9th highest in South America.
It is named after the German explorer who first visited the peak in 1913; however, it was first ascended in 1970 by a Chilean-Japanese expedition, and only in 2010 was its more normal (i.e. less difficult) route established.
8. Acamarachi Pool
Location: Chile, South America    Elevation: 19,520 feet or 5,950 meters    Depth: Unknown
Acamarachi is a crater pool found in the Cerro Pili stratovolcano on a high plateau named Puna de Atacama. It is only 33 to 49 feet (10 to 15 meters) in diameter. The volcano is extinct and, due to the terrain and its 45-degree angle, is considered unsafe for climbers.
However, it is of historical interest to archaeologists as it was believed to be an Incan house of prayer and Incan artifacts have been found there.
9. Lake Licancabur
Location: Chile, South America    Elevation: 19,410 feet or 5,916 meters    Depth: Under 4 meters
Discovered in 1953, this crater lake is situated in the Licancabur volcano near the city of San Pedro de Atacama on the Chile/Bolivia border. It is frozen for most of the year and, due to its barren and cold environment, is often compared to conditions on Mars. However, crustaceans, bacteria, and other life can be found there.
In addition, there are believed to be ruins of archaeological interest on the rim of the crater.
10. Bonete Lake
Location: Argentina, South America    Elevation: 19,192 feet or 5,850 meters    Depth: Unknown
There are four peaks called Cerro Bonete in Argentina. This lake is part of the Cerro Bonete Chico which is the fourth highest peak in the Andes and remained unclimbed until 1970. The lake itself is called Caldera del Inca and it is the highest water-filled crater in the world.
People Also Search For…
Although they might not be included in any world's largest lakes lists, many are part of the world's highest mountain ranges. In addition, there are many more lakes that were not included here. You can find out more about these and other geographical marvels, such as the Great Lakes of North America or National Park information.
What Is the Highest Lake in the World?
Though Ojos del Salado is the highest volcanic crater lake in the world, at over 20,000 feet in elevation, a different body of water is recorded as the world's highest navigable lake: Lake Titicaca.
On the border of Bolivia and Peru, Lake Titicaca sits at only around 12,500 feet or 3,810 meters above sea level but is South America's largest freshwater lake, and is the world's highest lake navigable by ocean or lake vessels.
Which Is the Highest Lake of India?
Also known as Cholamu Lake, you can find Tso Lhamo Lake in North Sikkim, which is the highest-altitude lake in India. It sits at about 16,000 feet or 5,098 meters above sea level and is fed by glacial runoff from the surrounding mountain plateau area, near the Himalayan Kangchenjunga range.
Which is the Highest Lake in Asia?
At #2 on our list, Lhagba Pool in Tibet is the highest lake in Asia. It sits at 20,892 feet or 6,358 meters to the north of Mount Everest, but according to recent satellite photos, evidence shows that this lake has become extinct, or dried out.