2018 Winter Olympics: Bobsleigh
Updated February 13, 2018 |
Factmonster Staff

Offspring of the toboggan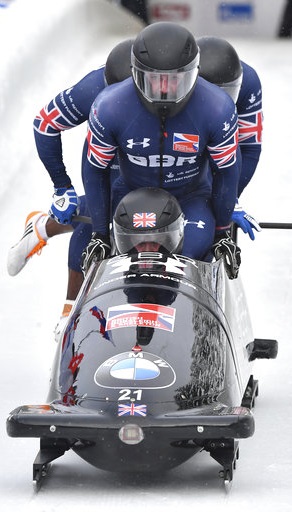 Related Links
Memorable Moments
Did You Know?
It has been 30 years since the Jamaican bobsled team made its debut at the Olympics. The team has finished 29th, 34th, 14th, 21st, and 28th.
An offspring of tobogganing, the modern-day sport of bobsledding was conceived in Switzerland late in the 1800s.
The bobsled's Olympic debut was the four-man event at the 1924 Winter Games. The two-man event was added eight years later in 1932. The only women's bobsled event—the two-woman bobsled—was held for the first time in 2002.
A notable event in bobsledding was the debut of the Jamaican bobsleigh team in the 1988 Winter Olympics, immortalized in the 1993 movie Cool Runnings. The team originally generated buzz as underdogs, winter competitors from a tropical country. This excitement crystallized with Disney's decision to make a film about it. The movie was a fictionalized account, but it maintained the great enthusiasm surrounding the team.
Making another major debut is Nigeria, who will be sending a two-woman team to Pyeongchang. Not only will this be another tropical team, but the first every bobsled team from Africa.
The events
Each nation may enter a maximum of two sleds in each event. The sleds are made of fiberglass and must adhere to strict size and weight restrictions.
There are two different sizes of teams, and three kinds of events. The four-man, two-man, and two-woman. The first member of a team is the driver. A driver steers the sled by pulling one rope with his right hand to go right or a separate rope with his left hand to go left. The second member of any team is the brakeman. Always the last person in the sled, the brakeman pulls up on the brake, lowering a piece of metal into the ice to stop the sled after the run. The four-man team is rounded out by a pair of pushers, responsible for helping get the sled started.
For each event the teams make two runs down a track, reaching speeds of up to 90 mph. The team with the lowest aggregate time after the two runs wins the gold.
The Pyeongchang Games
All of the bobsleigh events will be held at the Olympic Sliding Centre at the Alpensia Resort in Pyeongchang. Alpensia has prior hosted a number of events, but has undergone significant renovation in advance of the games. The official heats for the bobsleigh events begin with the two-man event on Feb. 18, and conclude with the four-man event on Feb. 25.
More about the 2018 Winter Olympics