2018 Winter Olympics: Ice Hockey
Updated February 13, 2018 |
Factmonster Staff


A tournament of veterans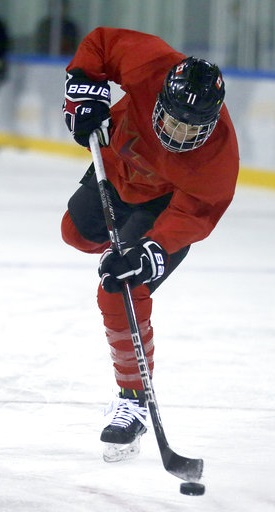 Related Links
Memorable Moments
Did You Know?
Ice hockey made its Olympic debut at the 1920 Summer Olympics in Antwerp, Belgium. The first Winter Olympics didn't take place until 1924.
Ice hockey is believed to have originated from other stick-and-ball games that were popular in the United Kingdom, and brought over by Canadian settlers during the colonization of the Americas. From there, it intersected with some First Nations sporting traditions, and would eventually develop into modern ice hockey in Montreal in the late nineteenth century. It became a professional sport in Canada and the United States in the early twentieth century, and has been an Olympic event since before the founding of the Winter Olympics in 1924.
Hockey's directly competitive nature and the game's inherent aggression gave it significant draw at the Olympics through the Cold War, and the event was a notable outlet of tensions between the United States and the Soviet Union. The 1980 "Miracle on Ice," in which the rookie US team defeated the heavily favored Soviet team, remains a major cultural moment for the United States. A rivalry also developed between the USSR and Canada, which regularly played out in the rink.
In 1988, the decision was made to allow for league professionals to participate in Olympic hockey. This saw a major influx of NHL players into the event, altering the state of competition. In 1998 the sport was further opened up to woman players. Of the five women's ice hockey finals, four have been between the US and Canada. Canada has featured in all five.
The events
An ice hockey match consists of two teams competing over three periods of twenty minutes. Teams compete by attempting to shoot a puck into the opposing team's goal. The Olympic standards for rink size, and other essential measurements, has traditionally differed from that used by the Canadian/US National Hockey League. As in the 2010 Vancouver Olympics, the game was played on the narrower NHL rink for convenience, as opposed to the wider International Ice Hockey Federation rinks.
Olympic ice hockey consists of two separate series of round robin tournaments, one for men and one for women. Two teams advance to the finals to compete for gold and silver. The teams they beat in the semifinals compete in a separate match for bronze.
The Pyeongchang Games
The hockey events will be held at the Gangneung Hockey Centre and the Kwandong Hockey Centre in Gangneung. The events will begin with the women's preliminary rounds on Feb. 10, and will conclude with the men's gold medal match on Feb. 25.
More about the 2018 Winter Olympics