2018 Winter Olympics: Luge
Updated February 13, 2018 |
Factmonster Staff


One of the fastest Olympic sports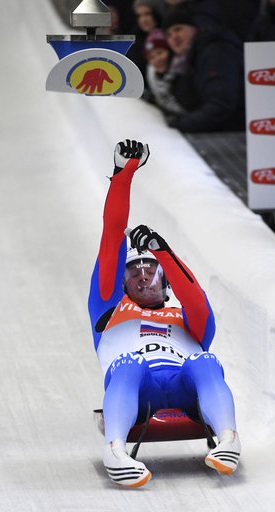 Related Links
Did You Know?
The only Olympians to win four consecutive gold medals in the same individual event are Carl Lewis (long jump), Al Oerter (discus), and Paul Elvstrom (sailing).
Luge, which takes its name from the French word for sled, is one of the fastest Olympic sports, with riders exceeding 90 mph.
Luge made its Olympic debut at the 1964 Innsbruck Games and was then dominated by a small handful of countries—Germany, Austria, Italy, and the former Soviet Union countries. It wasn't until the 1998 Nagano Games that the United States broke the stranglehold, claiming the doubles' silver and bronze. They repeated the silver-bronze feat in the doubles event 2002 at Salt Lake City.
There were originally just the singles and doubles events. The 2014 Games at Sochi saw the introduction of the mixed team relay.
The events
All luge events consist of rides on sleds riding down a track, with the goal of completing the track with the fastest time. The events consist of men's singles, women's singles, doubles and a mixed team relay. The track for the men's luge competition is 1,365 metres long, and 1,325 meters for the women's and doubles luge events.
In the singles events, athletes make four runs down the course over two days of competition. The fastest individual run wins the medal.
The doubles competition, in which one rider lies on top of the other, uses a more traditional format for sled sports. Each team makes two timed runs during one day of competition. The team with the fastest total time is the winner. These teams may be of mixed gender, though most teams consist of two men.
The mixed team relay works a bit differently from other relay sports. A team comprises a single woman, a single man, and a doubles team. Upon completion of the track, the preceding team member hits a target, signaling the next member to begin their run. This is done until the entire team has run the track. The fastest cumulative time wins the medal.
The Pyeongchang Games
The luge events will be held at the Olympic Sliding Centre at the Alpensia Resort in Pyeongchang. The events will begin with the men's singles on Feb. 10, and will conclude with the team relay on Feb. 15.
More about the 2018 Winter Olympics