/ Women CEOs
Women CEOs
Updated February 21, 2017 |
John Gettings, David Johnson, Borgna Brunner, and Chris Frantz

Profiles of leading female CEOs and business executives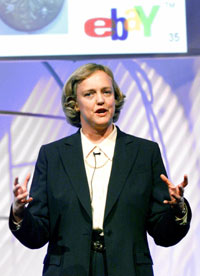 Meg Whitman, CEO of eBay, speaking at the Intershop Open Conference in 1999.
Top Female CEOs
Related Links
External Links
There once was a time in American history when the thought of women working for complex, multi-national technology companies, giant advertising firms, and massive publishing houses was snickered at behind closed boardroom doors.
Today, women are running those companies—from some of those very same boardrooms.
But although women make up almost half of America's labor force, as of 2007, only thirteen Fortune 500 companies have women CEOs or presidents, and 74 of those 500 companies don't have any women corporate officers.
Catalyst, the not-for-profit New York-based women's research organization, points out that its data shows a change over the last ten years. In 1995, 8.7% of corporate officers in Fortune 500 companies were women. This percentage rose to 15.4% by 2007. While this is progress, they note that, at this rate, it would take 40 years for the number of female corporate officers to match the number of male officers.
For the few women who have reached the highest ranks, they'd prefer not to talk about their gender. To them it's no longer an issue. Their accomplishments represent significant milestones—not just for women in business—but for women all over the world making career choices.
Here's a closer look at some of the most important women in business.
Brenda C. Barnes

CEO, Sara Lee
Brenda Barnes shocked the business world in 1998 when she left PepsiCo to spend more time with her family. Not that she went cold turkey—she kept her finger in the corporate pie by serving on seven boards, teaching a graduate school class, and serving as interim president of Starwood Hotels for five months. But she had been pegged as PepsiCo's first female head and her move appeared to be career suicide.
After a 1975 graduation from Augustana College in Illinois, Barnes took a job with PepsiCo subsidiary Wilson Sporting Goods. She had spent 22 years at Pepsi and made it to CEO of Pepsi-Cola North America when she dropped her bombshell. Once her children were in high school and college she accepted a job at Sara Lee in 2004 and then the top post in February 2005, becoming the CEO of the largest corporation with a woman at the helm.
It was another case of sending in a woman to clean up a corporate mess (see Anne Mulcahy and Patricia Russo). Barnes has begun a massive restructuring of the conglomerate with centralization a key goal. Previous management had focused on acquisition and had neglected marketing and innovation and the company has been in a seven-year downward spiral. She plans to spin off some of the clothing businesses and focus on the food and household goods sectors. Despite some Wall Street pundits skepticism and a few snags in her plan, she is determined to increase the company's current 7% operations to more than 12% by 2010.
Christina A. Gold

President, CEO, and Director, Western Union
Christina Gold has held the titles of President, CEO, and Director at Western Union since 2006 earning $4.90 million at age 59. Gold served as Senior Executive Vice President of Western Union from 2002 to 2006.
Before joining Western Union, she spent 25 years working for the cosmetic company, Avon Products, and then ran a telecom business based in Dallas, Texas.
Western Union is nearly twice the size of its closest competitor and has an 18 percent market share. The company controls 80% of electronic money-transfer in the U.S. In addition, Western Union has four times as many locations as Starbucks, McDonald's, and Wal-Mart combined. As CEO, Gold oversaw the company's transition from a subsidiary into a publicly listed company. She is working on giving Western Union a makeover with a $300 million worldwide advertising campaign and slogan, "Uniting People With Possibilities."
Susan M. Ivey

Chairman, President, and CEO, Reynolds American
Susan Ivey is Chairman, President, and CEO of Reynolds American, and a 25-year veteran of the tobacco business. In 2004, she became the first woman to head a cigarette company in the U.S.
Reynolds American is listed 288 on the Fortune 500 list, and compensates 48-year-old Gold with $8.17 million per year. She works on brands such as Camel and Kool as well as trying to increase the companies 30 percent market share. Since 2004, Ivey has acquired Conwood, a smokeless tobacco maker, and launched a new cigarette marketed towards adult women called Camel No. 9. In addition, Ivey is responsible for dealing with the increasing state smoking restrictions and cigarette taxes.
Ivey earned her business degree from Bellarmine University and a bachelor's degree from the University of Florida.
Carol Meyrowitz

President and CEO, TJX
Carol Meyrowitz, a 24-year retail veteran, is the President and CEO of TJX, which own stores including T.J. Maxx and Marshall's. At 53, the newly appointed CEO's compensation is $8.50 million. With her position came many messy lawsuits from the millions of credit card numbers stolen from store computers.
Indra Nooyi

Chairman and CEO, PepsiCo
PepsiCo's Chairman and CEO, Indra Nooyi, is ranked fifth on Forbe's 100 Most Powerful Women list. As CEO of the 63rd company on the Fortune 500 list, Nooyi is compensated with $9.38 million per year at age 51. During her role as CEO, Nooyi has sold off PepsiCo restaurants such as KFC and Pizza Hut in order to take on other brands including Tropicana and Quaker. The 17 PepsiCo brands earn $1 billion or more in annual sales.
Born in Southern India, Nooyi went on to obtain degrees in chemistry, physics, and math, and master's degrees from Calcutta's Indian Institute of Management and Yale University. After moving to the United States in 1978, she worked for Boston Consulting Group and Motorola before joining PepsiCo in 1994.
Paula Rosput Reynolds

President and CEO, Safeco
Paula Reynolds is President and CEO of the insurance company, Safeco making $6.14 million at age 50. During her first year at Safeco, the company's net income reached a record high. In 2007, however, net income fell 20% in the first quarter.
Before her move to Safeco, Reynolds worked in the energy industry for 27 years. She was the CEO of AGL Resources based in Atlanta, Georgia.
Since her move to Safeco in 2006, Reynolds has switched the company headquarters to downtown Seattle and reduced expenses, including reducing the number of employees, in an effort to boost numbers. In addition, she introduced Teensurance to the insurance market, and switched from NASDAQ to the New York Stock Exchange.
Meg Whitman

President & CEO, eBay Technologies
eBay is one of the Internet's most popular sites. Beginning as an online auction house that describes itself as "the world's largest personal online trading company," it's acquired several related companies including PayPal, an online payment service, and Skype, an Internet phone service.
On paper Whitman may have been the richest woman CEO in America, thanks to her eBay stock options and the company's amazing IPO in 1998. Ranked 22 on Fortune's Most Powerful Women of 2007 list, she is steadily guiding one of the few dot-com companies making money.
During her high school years she planned a career in medicine and entered the program at Princeton University. She switched to business studies after her experiences at a summer job in which she sold advertising for a campus publication. She graduated with an economics degree in 1977 and earned her MBA at Harvard Business School two years later.
Whitman became president of Stride Rite, a division of the shoe maker that manufactures Keds, and a chief executive of Florists' Transworld Delivery (FTD). She joined Hasbro Inc.'s preschool division in 1997 where she was responsible for global marketing of Playskool and Mr. Potato Head brands. Since joining eBay (in March 1998) Whitman has helped navigate the Internet company through well-publicized computer and personnel problems. She also serves on the boards of DreamWorks Animation and Procter & Gamble.
Andrea Jung

President & CEO, Avon Products
Avon is the world's leading direct seller. Its beauty and related products are sold in more than 100 countries, with sales of over $8 billion worldwide. The company has been on the Fortune 500 list for more than 50 consecutive years, ranking #278 in 2005.
Jung's road to the top of Avon was paved with persistence. Passed over for the CEO position in 1997, Jung was promoted in 1999 and has since energized the company with her retail experience and acclaimed marketing wizardry.
Jung attended Princeton, majoring in English literature, and graduated magna cum laude in 1979. Her remarkable retailing career began at Bloomingdale's when she joined the company's management trainee program. She quickly climbed the management ladder before jumping to San Francisco retailer I. Magnin, and later Neiman Marcus, where she was executive vice president.
Jung began her career at Avon as a consultant before signing on full-time in 1994. Despite her leadership in the company's global marketing initiatives as a COO, the vacant CEO position went to Charles R. Perrin, a former Duracell International executive who had no cosmetics experience. Today Jung is sitting on top of this unique Fortune 500 company with more women in management positions than any other. In fact, half of Avon's board of directors are women.
In 2001, she was elected chairman of Avon's board of directors and from 2001–2005 she served as the first woman elected chair of the Cosmetic, Toiletry, and Fragrance Association. In 2006, she was #37 on the Forbes list of Most Powerful Women.
Mary F. Sammons

President and CEO, Rite Aid
As President and CEO of Rite Aid since 2003, Mary Sammons oversees the assimilation of the recently purchased Brooks and Eckerd companies.
Before working for Rite-Aid, Sammons was president and CEO of Fred Meyer Stores. She joined Rite-Aid in 1999, and four years later became President and CEO during an accounting scandal when the company was losing money.
Sammons helped the company avoid bankruptcy and make the $3.4 million purchase of Brooks and Eckerd. Rite-Aid is the number three drugstore chain in the United States and ranked 134 on the Fortune 500 list in 2007. Mary Sammons was number 15 on Forbe's 100 Most Powerful Women list in 2007. She earns $1.89 million at age 60.
Anne Mulcahy

Chairman and Chief Executive Officer, Xerox Corporation
The CEO job Anne Mulcahy took over in 2001 was a daunting one: haul the beleaguered copy giant Xerox out of its crippling debt and set it on the road to recovery.
After graduating from Marymount College, Mulcahy worked for two years at Chase Manhattan Bank. She then went to Xerox where she started as a field sales representative in 1976 and climbed to increasingly higher management positions. She logged in three years as vice president for human resources before becoming chief staff officer in 1997 and corporate senior vice president in 1998.
When Mulcahy became CEO in 2001, the company debt was over $17 billion dollars. Her solutions seemed draconian—she chopped more than 30,000 jobs, eliminated entire divisions, and sent manufacturing overseas to Taiwan. Her efforts appeared to be getting results as the year-end 2005 announcements included a 9% net income increase and a debt balance of $7.3 billion.
Patricia Russo

Chief Executive Officer, Alcatel-Lucent
When AT&T spun off its Bell Labs systems and technologies division as Lucent Technologies, Patricia Russo was one of the people guiding the new company through its birth pangs. As executive vice president of corporate operations and CEO of Service Provider Groups she was there as Lucent rode high on the 1990s technology wave.
After earning a degree in political science and history from Georgetown University, Russo stepped into an eight-year stint at IBM. She joined AT&T in 1981 and her success in restructuring a wobbly Business Communications Systems division into the new company Avaya, Inc. in 1989 paved the way for her role in Lucent's own spinoff in 1996. She took a brief detour (less than a year) as president and chief operating officer of Eastman Kodak but returned to take over Lucent as CEO in 2002 and then became chairman in 2003. Upon its 2006 merger with Alcatel, she became CEO of the combined Alcatel-Lucent.
When she took over Lucent in 2002, the company's share price was a dismal $1. She promised a return to profitability by the end of 2003, a promise kept through cost cutting, staff reduction, and cutting retiree benefits. The four quarters of 2004 also showed an increase but the stock price slacked off in 2005. Irate stockholders voted in 2006 to tie executive pay with performance. In 2005, Russo's compensation package was worth $4.75 million. On the 2007 Forbe's 100 Most Powerful Women list, Russo ranked tenth.
Patricia Woertz

Chairman, President, and CEO, Archer Daniels Midland
Patricia Woertz is Chairman, President, and CEO of Archer Daniels Midland, which is ranked 59th on the 2007 Fortune 500 list. She worked at Chevron for almost 30 years before switching to the $37 billion food processing giant, ADM.
In February 2007, Woertz took over as chairman from G. Allen Andreas. Woertz is ranked eighth on Forbe's 100 Most Powerful Women list, and earns $8.18 million at age 54. She oversees turning corn and soy crops into everything from syrup to ethanol. Competitors, like Cargill, blame rising food prices and threat of corn shortages on ethanol production, but Woertz argues that corn crops will increase and prices will lower. Her goal is to make ADM a leader in renewable fuels. The company will enter the sugar-cane ethanol business in Brazil in the near future.
Angela Braly

President and CEO, Wellpoint
At the young age of 46, Angela Braly is the President and CEO of Wellpoint, and the Healthcare industry's most powerful woman. Wellpoint runs Blue Cross and Blue Shield plans in 14 states with health plans worth up to 60% of market shares. Since 2000, Wellpoint's annual sales have increased on average by 55%. Annual sales are now $56 billion, which is larger than PepsiCo, Archer Daniels Midland, Xerox, and Kraft. Although Braly talks of health care reform, she insists that it must be done in the private sector.
Braly earned her juris doctor at Southern Methodist University School of Law and her bachelor's degree from Texas Tech University. She worked as a partner in the St. Louis Law frim of Lewis, Rice & Fingersh, L.C. before joining Blue Cross Blue Shield in 1999.