/ Women Leaders in Business
Women Leaders in Business
Updated February 21, 2017 |
Factmonster Staff

Profiles of leading female CEOs and business executives
by John Gettings, David Johnson, Borgna Brunner, and Chris Frantz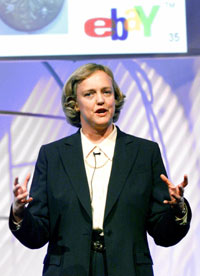 Meg Whitman, CEO of eBay, speaking at the Intershop Open Conference in 1999.
Top Female CEOs
Related Links
External Links
There once was a time in American history when the thought of women working for complex, multi-national technology companies, giant advertising firms, and massive publishing houses was snickered at behind closed boardroom doors.
Today, women are running those companies—from some of those very same boardrooms.
But although women make up over half of America's labor force, as of 2009, only 12 Fortune 500 companies and 25 Fortune 1000 companies have women CEOs or presidents.
Catalyst, the not-for-profit New York-based women's research organization, points out that its data shows a change over the last ten years. In 1998, 11.2% of corporate officers in Fortune 500 companies were women. This percentage rose to a peak of 16.4% by 2005, but has since fallen and in 2008 it rested at 15.7%. While this is progress, Catalyst notes that, at this rate, it would take 40 years for the number of female corporate officers to match the number of male officers.
For the few women who have reached the highest ranks, they'd prefer not to talk about their gender. To them it's no longer an issue. Their accomplishments represent significant milestones—not just for women in business—but for women all over the world making career choices.
Here's a closer look at some of the most important women in business.
Catherine Elizabeth "Cathy" Hughes

Radio Personality, Executive
Born Catherine Elizabeth Woods, she attended Creighton University and the University of Nebraska at Omaha but did not graduate. Around 1969 she began working at KOWH, a black radio station in Omaha, handling various jobs, and becoming well known.
Her success prompted the School of Communications at Howard University in Washington, DC, to offer her a job as lecturer. In 1973 she became sales director at WHUR-FM. Two years later she became the station's general manager, boosting sales revenue to $3.5 million from $300,000.
In 1979, she and her husband, Dewey Hughes, purchased a small Washington radio station, WOL, creating Radio One. Her marriage eventually ended, and she bought her husband's share in the station. But Hughes was forced to give up her apartment and live at the station for a time in order to make ends meet.
Over time, she made the station profitable, and her own talk show became a hit. By purchasing stations in other cities, the company eventually became the nation's largest black-owned radio chain. In Jan. 2004, her company launched a new cable channel, TV One, aimed at African Americans. She is the first African American woman to head a firm publicly traded on a stock exchange in the United States. She has been married twice and has one son.
Muriel "Mickey" Siebert

Stockbroker
Siebert attended Western Reserve University (now known as Case Western) but dropped out after two years when her father got cancer. In 1954 she arrived in New York City with $500 to search for a job. She was hired as a trainee research analyst at the Wall Street firm Bache & Co. She later worked as an analyst at a number of firms.
In 1967 she became the first woman to purchase a seat on the New York Stock Exchange (NYSE). For ten years she was the only female among the 1,366 members. In 1969 she became the first woman to own and operate a brokerage firm that belonged to the NYSE, Muriel Siebert & Co, now Siebert Financial Corp.
In 1975 when the U.S. government abolished fixed commissions for stockbrokers, Siebert turned her company into a discount brokerage firm. In 1977 she was named New York State banking superintendent. She stepped down in 1982 to run for the senate but lost the Republican primary.
Since then Siebert has run her company and been involved with charitable work. She is often called "The First Woman of Finance." In 2002 her autobiography, Changing the Rules—Adventures of a Wall Street Maverick, was published.
Mary Kay Ash

Business Executive
Founder of Mary Kay Cosmetics, one of the largest beauty products firms in the United States, Ash sold a child psychology book door to door in the late 1930s and then was a sales representative and manager at the Stanley Home Products Co. from 1939 to 1952. Later, she was national training director at the World Gift Co.
In 1963, with $5,000, she founded Mary Kay Cosmetics in a Dallas storefront. The firm sold products door to door using nine saleswomen, called "beauty consultants." The business grew steadily, helped by Ash's positive philosophy and her generous use of incentives, such as free pink Cadillacs and diamond jewelry, for successful sales people.
Mary Kay was active in her company until she suffered a stroke in 1996. Her son, Richard Rogers, then took over the reins of the company. At the time of her death in November 2001, Mary Kay Cosmetics had over 800,000 representatives in 37 countries and more than $2 billion in retail sales.
Marjorie Scardino

Business Executive
After growing up Texarkana, Tex., where she participated in rodeos as a teenager, Marjorie Morris earned a BA in French and psychology from Baylor University in 1969. She began law school at George Washington University but dropped out to become a journalist.
She later married Albert Scardino, a journalist, in California, and she got a law degree from the University of San Francisco in 1975. They moved to Savannah three years later, where Scardino became a lawyer. She and her husband purchased a weekly newspaper, the Georgia Gazette, which won a 1984 Pulitzer Prize. The paper eventually folded.
In 1985 Scardino became managing director of the North American division of The Economist, a London-based business magazine. She increased circulation and profits. In 1992 she became CEO of The Economist Group.
In 1997 Scardino was named CEO of Pearson, a $3.5 billion international media conglomerate based in London, which owns 50% of The Economist. Scardino decided to focus Pearson as a media company, selling such unrelated properties as Madame Tussaud's Waxworks, and purchasing various educational and publishing properties (including Information Please and Fact Monster). In 2007, she was ranked 17th on Forbes 100 Most Powerful Women in the World list. In October 2012, Scardino announced that she would step down as Pearson's CEO.
Scardino is the first woman to head a top 100 firm on the London Stock Exchange. She and her husband live in London and have three children.
Shelly Lazarus

Chairman, Ogilvy & Mather
Ogilvy & Mather Worldwide is one of the biggest ad agencies in the world and lists IBM, American Express, Mattel, and Ford among its clients.
The most powerful woman in advertising, Lazarus took over for the company's first woman CEO, Charlotte Beers, in 1997.
Lazarus didn't consider a career in advertising until her senior year at Smith College when she was stirred up by a conference given by the Advertising Women of New York. She graduated in 1968 and earned an MBA in 1970 from Columbia, where she was one of four women in her class. She joined Ogilvy & Mather in 1970 and gained her reputation by supervising accounts for Avon, the Ralston Purina Co., and Campbell Soup Co., and later signing multi-million dollar deals with American Express and IBM. She was also the CEO of Ogilvy & Mather until the end of 2008.
Meg Whitman

Former President & CEO, eBay Technologies
eBay is one of the Internet's most popular sites. Beginning as an online auction house that describes itself as "the world's largest personal online trading company," it's acquired several related companies including PayPal, an online payment service, and Skype, an Internet phone service.
During her high school years she planned a career in medicine and entered the program at Princeton University. She switched to business studies after her experiences at a summer job in which she sold advertising for a campus publication. She graduated with an economics degree in 1977 and earned her MBA at Harvard Business School two years later.
Whitman became president of Stride Rite, a division of the shoe maker that manufactures Keds, and a chief executive of Florists' Transworld Delivery (FTD). She joined Hasbro Inc.'s preschool division in 1997 where she was responsible for global marketing of Playskool and Mr. Potato Head brands. Upon joining eBay in March 1998, Whitman helped navigate the Internet company through well-publicized computer and personnel problems. She also served on the boards of DreamWorks Animation and Procter & Gamble.
Since stepping down as CEO of Ebay in 2007, Whitman has become active in American politics with the Repulican party. She supported Mit Romney's run for the presidency in 2008 until he droped out of the race. Whitman then endorsed Senator John McCain and became the national co-chair for his unsucessful campaign. In February 2009, she announced that she would run for governor of California in 2010.
Andrea Jung

President & CEO, Avon Products
Avon is the world's leading direct seller. Its beauty and related products are sold in more than 100 countries, with sales of over $8 billion worldwide. The company has been on the Fortune 500 list for more than 50 consecutive years, ranking #278 in 2005.
Jung's road to the top of Avon was paved with persistence. Passed over for the CEO position in 1997, Jung was promoted in 1999 and has since energized the company with her retail experience and acclaimed marketing wizardry.
Jung attended Princeton, majoring in English literature, and graduated magna cum laude in 1979. Her remarkable retailing career began at Bloomingdale's when she joined the company's management trainee program. She quickly climbed the management ladder before jumping to San Francisco retailer I. Magnin, and later Neiman Marcus, where she was executive vice president.
Jung began her career at Avon as a consultant before signing on full-time in 1994. Despite her leadership in the company's global marketing initiatives as a COO, the vacant CEO position went to Charles R. Perrin, a former Duracell International executive who had no cosmetics experience. Today Jung is sitting on top of this unique Fortune 500 company with more women in management positions than any other. In fact, half of Avon's board of directors are women.
In 2001, she was elected chairman of Avon's board of directors and from 2001–2005 she served as the first woman elected chair of the Cosmetic, Toiletry, and Fragrance Association. In 2008, she joined Apple's board of directors, a group that also includes Steve Jobs and Al Gore.
Cathleen Black

President, Hearst Magazines Division
Hearst Corp. is the world's largest publisher of monthly magazines, including Cosmopolitan, Esquire, Good Housekeeping and Harper's Bazaar.
Black made history in 1979 by becoming the first woman publisher of a weekly consumer magazine. Since taking the reins of this publishing giant, she has revitalized some of its most popular titles. In 2004, the company made $1.6 billion in advertising revenue.
Black began her career selling ads for magazines like Holiday and Travel & Leisure before joining New York magazine in 1970. She helped launch Ms. magazine two years later and rose to associate publisher. Black then returned to New York magazine where, in 1979, she became the first female publisher of a weekly consumer magazine.
In 1983 she took over a new national newspaper called USA Today and by 1991 the paper's circulation rose to 1.8 million, second only to the Wall Street Journal. Black left USA Today to head up the Newspaper Association of America, the leading lobbying group for the industry. In 1995, she was hired to run Hearst Magazines, becoming the first woman to hold the position. She is also on the board of directors of IBM, and Coca-Cola.
Anne Mulcahy

Chairman and Chief Executive Officer, Xerox Corporation
The CEO job Anne Mulcahy took over in 2001 was a daunting one: haul the beleaguered copy giant Xerox out of its crippling debt and set it on the road to recovery.
After graduating from Marymount College, Mulcahy worked for two years at Chase Manhattan Bank. She then went to Xerox where she started as a field sales representative in 1976 and climbed to increasingly higher management positions. She logged in three years as vice president for human resources before becoming chief staff officer in 1997 and corporate senior vice president in 1998.
When Mulcahy became CEO in 2001, the company debt was over $17 billion dollars. Her solutions seemed draconian—she chopped more than 30,000 jobs, eliminated entire divisions, and sent manufacturing overseas to Taiwan. Her efforts got results. In 2008 she was selected as one of America's best leaders by U.S. News & World Report, and the same year was named "CEO of the Year" by Chief Executive magazine.
Brenda Barnes

Chief Executive Officer, Sara Lee
Brenda Barnes shocked the business world in 1998 when she left PepsiCo to spend more time with her family. Not that she went cold turkey—she kept her finger in the corporate pie by serving on seven boards, teaching a graduate school class, and serving as interim president of Starwood Hotels for five months. But she had been pegged as PepsiCo's first female head and her move appeared to be career suicide.
After a 1975 graduation from Augustana College in Illinois, Barnes took a job with PepsiCo subsidiary Wilson Sporting Goods. She had spent 22 years at Pepsi and made it to CEO of Pepsi-Cola North America when she dropped her bombshell. Once her children were in high school and college she accepted a job at Sara Lee in 2004 and then the top post in February 2005, becoming the CEO of the largest corporation with a woman at the helm.
It was another case of sending in a woman to clean up a corporate mess (see Anne Mulcahy). Barnes has begun a massive restructuring of the conglomerate with centralization a key goal. Previous management had focused on acquisition and had neglected marketing and innovation and the company has been in a seven-year downward spiral. She plans to spin off some of the clothing businesses and focus on the food and household goods sectors. Despite some Wall Street pundits skepticism and a few snags in her plan, she is determined to increase the company's current 7% operations to more than 12% by 2010.
Sheryl Sandberg

Chief Operating Officer of Facebook
Sheryl Sandberg became Facebook's chief operating officer in 2008. In June 2012, she was elected to Facebook's board of directors, becoming the first woman to serve on the board. Also, in 2012, she made Time magazine's annual list of the 100 most influential people in the world. In 2013, Sandberg published her first book, Lean In: Women, Work, and the Will to Lead. The book expanded on Sandberg's belief that women themselves are the reason there is a lack of female leaders in the world of business and politics.
Prior to Facebook, Sandburg served as chief of staff to U.S. Secretary of the Treasury Larry Summers during Bill Clinton's time as president. In 2001, she began working at Google. From 2001 to 2008 she was Google's vice president of operations and global online sales. While at Google, she also helped launch Google.org, a charitable branch of the company.
Sandberg serves on the following boards: Walt Disney Company, Women for Women International, Center for Global Development, and V-Day. She is married to David Goldberg, the CEO of SurveyMonkey. They have two children.
Marissa Mayer

Chief Executive Officer, Yahoo!
In July 2012, Marissa Mayer was named president and CEO of Yahoo!, making her the youngest CEO of a Fortune 500 company at age 37. Also, in 2012, she was ranked 14 by Fortune magazine's for their list of American's Most Powerful Women in Business.
Mayer started at Google in 1999 where she became their 20th employee and first female engineer. She was at Google for 13 years and helped develop Google Search, including their no frills homepage, as well as Google Maps, Gmail and iGoogle.
In February 2013, Mayer made a personnel policy change at Yahoo! that made headlines and caused controversy. She banned telecommuting and asked all employees working remotely to work in the office full time or resign from the company. Mayer implemented the policy after giving birth to her son and returning to the office where she built a nursery next to her office suite.
Mayer also serves on the board of directors for Walmart, Cooper-Hewitt, New York City Ballet, National Design Museum, San Francisco Museum of Modern Art and San Francisco Ballet. Mayer is married to investor Zachary Bogue.