Celluloid Santas
Updated February 21, 2017 |
Factmonster Staff

Not-so-Jolly Old Elves
---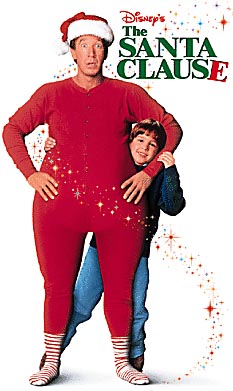 Tim Allen puts on a few pounds for his new job in The Santa Clause.
The anti-Santa?depressed and grouchy?is another way Hollywood has skewered the big guy for the sardonic pleasure of adult audiences. Monty Woolley in 1942's
Life Begins at 8:30,
Alberto Rabagliatti in 1966's
The Christmas That Almost Wasn't,
Dan Aykroyd in 1983's
Trading Places,
and Christopher Plummer in 1986's
The Silent Partner
aren't exactly the milk-and-cookies types.
However, it was the horror genre that officially axed the sanctity of Santa. The inaugural installment of Silent Night, Deadly Night in 1984?there'd be four increasingly horrible sequels?unleashes a murdering psycho dressed in a Santa suit. Along the same, er, hook, 1996's Santa Claws features a similarly attired deviant-next-door, but this one, yes, bags his victims with the title weapon.
Recent years have seen a sleighful of onscreen Santas, the majority appearing in the cinematic equivalent of coal in your stocking: Jeff Gillen in 1983's A Christmas Story, Jan Rubes in 1985's One Magic Christmas, Jim Varney in 1988's Ernest Saves Christmas, David Huddleston in 1985's Santa Claus: The Movie, Richard Attenborough in 1994's remake of Miracle on 34th Street, and Tim Allen in 1994's The Santa Clause.


The Real McCoy