Celluloid Santas
Updated February 21, 2017 |
Factmonster Staff

The Quintessential Santa
---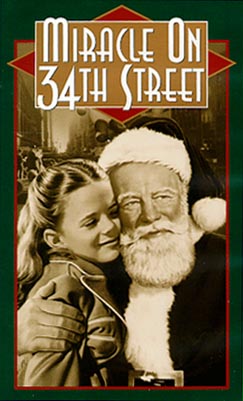 Yes, Virginia, he is Santa Claus... 34th Street's Edmund Gwenn is still the king of Kringles.


So which celluloid Santas are best suited for the part? Author Thompson says that Allen in
The Santa Clause,
the amusing tale of a divorced dad who turns into Saint Nick when he puts on the deceased old elf's suit, is surprisingly substantial.
He explained, "This is a satisfying, thoughtful film about what Santa means. It poses a theory that we never see in storybooks: that a Santa reigns for a certain amount of time and then a new Santa takes over."
For a more traditional portrayal, Thompson singles out Jan Rubes, who plays Santa in the tear-jerking One Magic Christmas. "He has a real gravity about him," says the author.
Of course, no discussion of Santa films would be complete without a snowdrift of praise for Edmund Gwenn, who still reigns as Hollywood's ultimate Santa. The beloved star of the 1947 chestnut Miracle on 34th Street, Gwenn goes down in history as the only Oscar-winning Kris Kringle (he won a Best Supporting Actor statuette).
"How many people really have a twinkle in their eye?" said Thompson. "He's never frivolous or silly. He is unapologetically Santa."
Indeed, year after year, some Hollywood Saint Nicks are worth waiting for. Just like the real one.


Back to the Beginning