Korea, North History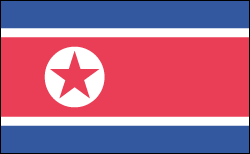 Index
History
Partition of Korea Leads to War
After Japan's surrender at the conclusion of World War II, the Korean peninsula was partitioned into two occupation zones, divided at the 38th parallel. The USSR controlled the north, with the U.S. taking charge of the south. In 1948, the division was made permanent with the establishment of the separate regimes of North and South Korea. The Democratic People's Republic of Korea (North Korea) was established on May 1, 1948, with Kim Il Sung as president.
Hoping to unify the Koreas under a single Communist government, the North launched a surprise invasion of South Korea on June 25, 1950. In the following days, the UN Security Council condemned the attack and demanded an immediate withdrawal.
President Harry S. Truman ordered U.S. air and naval units into action to enforce the UN order. The British government followed suit, and soon a UN multinational command was set up to aid the South Koreans.
The North Korean invaders swiftly seized Seoul and surrounded the allied forces in the peninsula's southeast corner near Pusan. In a desperate bid to reverse the military situation, UN Commander Gen. Douglas MacArthur ordered an amphibious landing at Inchon on Sept. 15 and routed the North Korean army. MacArthur's forces pushed north across the 38th parallel, approaching the Yalu River.
Prompted by this successful counteroffensive, Communist China entered the war, forcing the UN troops into a headlong retreat. Seoul was lost again, then regained. Ultimately, the war stabilized near the 38th parallel but dragged on for two years while negotiations took place. An armistice was achieved on July 27, 1953.
---