/ Korea, South
Korea, South
Facts & Figures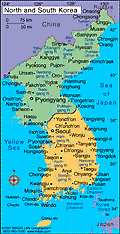 President: Yoon Suk Yeol (2022)

Prime Minister: Han Duck-soo (2022)

Total area: 38,502 sq mi (99,720 sq km) Land area: 37,421 sq mi (96,920 sq km) Water area: 1,081 sq mi (2,800 sq km)

Population (2022 est.): 51,844,834 (growth rate: 0.24%); birth rate: 6.92/1000; infant mortality rate: 2.87/1000; life expectancy: 82.97

Capital and largest city (2022 est.): Seoul, 9.976 million

Other large cities: Busan (Pusan) 3.468 million; Incheon (Inch'on) 2.834 million; Daegu (Taegu) 2.185 million; Daejon (Taejon) 1.573 million; Gwangju (Kwangju) 1.526 million (2022).

Monetary unit: won

National name: Taehan Min'guk

Languages: Korean, English (widely taught in elementary, junior high, and high school)

Ethnicity/race: homogeneous (except for about 20,000 Chinese)

Religions: Protestant 19.7%, Buddhist 15.5%, Catholic 7.9%, none 56.9% (2015 est.)

National Holiday: Liberation Day, August 15

Literacy rate: 98% (2003 est.)

Economic summary: GDP/PPP (2020 est.): $2,187,800,000,000; per capita $42,300. Real growth rate: 2.04%. Inflation: 0.3%. Unemployment: 3.76%. Arable land: 15.3%. Agriculture: rice, root crops, barley, vegetables, fruit; cattle, pigs, chickens, milk, eggs; fish. Labor force: 26.839 million; agriculture 4.8%, industry 24.6%, services 70.6%. Industries: electronics, telecommunications, automobile production, chemicals, shipbuilding, steel. Natural resources: coal, tungsten, graphite, molybdenum, lead, hydropower potential. Exports: $606.71 billion (2020 est.): semiconductors, wireless telecommunications equipment, motor vehicles, computers, steel, ships, petrochemicals.Major trading partners (exports): China 25%, United States 14%, Vietnam 9%, Hong Kong 6%, Japan 5% (2019). Imports: $540.96 billion (2020 est.): machinery, electronics and electronic equipment, oil, steel, transport equipment, organic chemicals, plastics. Major trading partners (imports): China 22%, United States 12%, Japan 9% (2019).

Communications: Telephones: main lines in use: 23,858,239 (2020); mobile cellular: 70,513,676 (2020). Broadcast media: multiple national TV networks with 2 of the 3 largest networks publicly operated; the largest privately-owned network, Seoul Broadcasting Service (SBS), has ties with other commercial TV networks; cable and satellite TV subscription services available; publicly-operated radio broadcast networks and many privately-owned radio broadcasting networks, each with multiple affiliates, and independent local stations (2010). Internet Service Providers (ISPs): 315,697 (2012). Internet users: 50,281,152 (2020).

Transportation: Railways: total: 3,979 km (2016). Highways: total: 100,428 km; paved: 92,795 km (including 4,193 km of expressways); unpaved: 7,633 km (2016 est). Waterways: 1,600 km; use restricted to small native craft. Ports and harbors: Incheon, Pohang, Busan, Ulsan, Yeosu. Airports: 111 (2021).

International disputes: Military Demarcation Line within the 4-km-wide Demilitarized Zone has separated North from South Korea since 1953; periodic incidents with North Korea in the Yellow Sea over the Northern Limit Line, which South Korea claims as a maritime boundary; South Korea and Japan claim Liancourt Rocks (Tok-do/Take-shima), occupied by South Korea since 1954.
Next
Index
---