Tanzania News & Current Events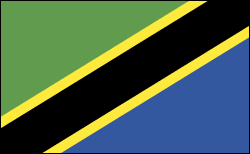 Index
News and Current Events
A Bombing Tragedy and Government Scandal
On Aug. 7, 1998, the U.S. embassy in Dar es Salaam was bombed by terrorists, killing ten. The same day an even more devastating explosion destroyed the U.S. embassy in neighboring Kenya.
President Benjamin William Mkapa (1995–2005) sought to increase economic productivity while dealing with serious pollution problems and deforestation. With more than one million people infected with HIV, AIDS care and prevention have been major public health issues. On foreign policy, Tanzania has taken a leading diplomatic role in East Africa, hosting peace talks for the factions fighting in neighboring Burundi. The UN International Criminal Tribunal for Rwanda (ICTR) is located in the town of Arusha. In Oct. 2000, Mkapa was easily reelected. In 2002, opposition leaders and foreign donors criticized the president's costly new $21 million personal jet.
In 2005 presidential elections, foreign minister Jakaya Kikwete of the Chama Cha Mapinduzi (CCM) Party won with 80% of the vote.
Prime Minister Edward Lowassa resigned in February 2008 over a scandal involving an American energy company, Richmond Development, which was hired to provide Tanzania with generators to supply electricity to the country during a power shortage. The company never began the operation, yet Lowassa urged the government to renew the contract. Mizengo Pinda replaced Lowassa as prime minister.
Works Minister John Magufuli won the October 2015 presidential election. Magufuli was the candidate for CCM, the ruling party in Tanzania. He ran against and defeated former Prime Minister Lowassa who had defected to the opposition Chadema party after failing become CCM's nominee. Incumbent president Kikwete was not eligible for a third term due to term limits. Magufuli was sworn in on Nov. 5.
See also Encyclopedia: Tanzania .
U.S. State Dept. Country Notes: Tanzania
National Bureau of Statistics http://www.tanzania.go.tz/statistics.html
---