Zambia News & Current Events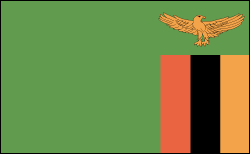 Index
News and Current Events
President Sata Dies in Office
On Oct. 28, 2014, President Sata died while being treated in London for an undisclosed illness. Rumors about him being seriously ill had been going on for weeks, especially after he missed a speech at the United Nations General Assembly. Vice President Guy Scott became acting president until an election could be held. Scott was the first white president in Africa since F.W. de Klerk, the last apartheid-era president of South Africa.
While in office as president, on Nov. 3, Scott dismissed Edgar Lungu from his post as secretary general of the patriotic front. Lungu had become the presidential candidate of Sata's party, the Patriotic Front, after Sata's death. Lungu's dismissal from his post caused instant protests in Lusaka, Zambia's capital. Scott reinstated Lungu the following day.
A month later, Scott rejected calls from government officials for him to resign as acting president. In Jan. 2015, Lungu won a close election over Hakainde Hichilema to become Zambia's sixth president.
See also Encyclopedia: Zambia .
U.S. State Dept. Country Notes: Zambia
---