/ Movies
/ Harry Potter and the Goblet of Fire: Pre-release
Harry Potter and the Goblet of Fire: Pre-release
Updated February 21, 2017 |
Factmonster Staff

Harry Potter and the Goblet of Fire
The book that's bewitching readers everywhere
---
This article was posted on January 20, 2000.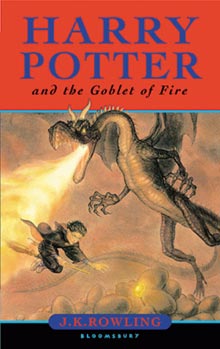 The British edition of the latest—and longest—Harry Potter book
On July 6 and 7, booksellers in the United States and United Kingdom will receive the most eagerly awaited shipment of the year—the first copies of Harry Potter and the Goblet of Fire.
The Boxes Are Sealed
Law prevents booksellers from opening the shipment until one minute after midnight on July 8. Not a page, not a peek. As it says in the written legal agreement that all sellers must sign, "No early reading copies, no early giveaways, no prepublication display copies; thank you for your cooperation." Any bookseller who violates this agreement will never again be permitted to order Harry Potter books.
For many stores the book's arrival will be the biggest event ever—at least until Harry Potter V is released in 2001. Last year, the Harry Potter books accounted for 1 in 10 children's books sold.
Owls, Pajamas, and Beans of Every Flavor
Some booksellers are pulling out all the stops to celebrate the books' arrival. The Red Balloon Bookshop in St. Paul, Minn., will feature picture-taking at "Mystical Platform 9 ¾," a visiting student wizard, and "treats from the Hogwarts cafeteria." They store will host "owls in the afternoon"—handlers from the University of Minnesota Raptor center will do a "show and tell about owls in the Muggles' world," according to resident storyteller Willi Brennaman. In addition, Hogwarts-aged visitors may have lightning-bolt scars painted on their foreheads.
Among the stores that will close at their usual hour on July 7 but reopen at midnight is The Children's Book Shop in Brookline, Mass. Manager Becky Whidden expects that "kids who live in the area will come in their pajamas." The Children's Book Shop will be giving away posters and signed books, and serve fun foods. (Says Whidden, "If I'm going to be there at midnight, I want something to eat.") The store will stay open until about 2:00 A.M.
Other stores, such as Bookwinkle's Children's Books in Mendocino, Calif., will stay open all evening and through the witching hour. In the words of Bookwinkle employee Joy Coleman, "at the stroke of midnight we'll open the boxes of books," and celebrate with a snack of every-flavor beans. (We'll hope the beans have been picked over for Muggle tastes.)
Not every bookseller will be up after dark, though. Says the manager at Banbury Cross Children's Bookshop in Wenham, Mass., "I'm not staying up all night—Harry Potter or no Harry Potter."
Last-Minute Magic
Until the book's official title was announced on June 27, author J. K. Rowling's account of Harry's fourth year at Hogwarts was known simply as Harry Potter IV, or by its working title, Harry Potter and the Doomspell Tournament. Even the book's American publisher listed the Doomspell Tournament title in its catalog until April. Was the switcheroo just to keep fans guessing?
Rumor has it otherwise. A story has been floating around that says Rowling, a writer with very high standards, did not in fact finish writing the book until mid-April, when she also chose the final title. If this was the case, getting the book out by July must have required the energy and teamwork of a Quidditch match. A book of this length—a reported 752 pages—would ordinarily take about a year to be transformed from manuscript into finished book.
All Aboard at Platform 9 ¾
When the book is released in England, a platform at London's Kings Cross Station will be set up as "platform 9 ¾," from which Harry catches the train to Hogwarts. The steam locomotive parked there will be the oldest one in the United Kingdom, with some cars dating back to 1891.
Over several days the train will visit a number of U.K. cities, including Oxford, Manchester, and York. Author Rowling will be on board to autograph her books when the train stops at stations along the route.