/ Harry Potter: Busy Times
Harry Potter: Busy Times
Updated February 21, 2017 |
Factmonster Staff

Busy Times for Harry Potter
A Movie, a Lawsuit, and a Lot of Hungry Readers
---
This article was posted on January 20, 2000.
The deal is done. It was announced March 28 that Warner Brothers movies and director Chris Columbus have agreed to begin work on the Harry Potter film. Columbus, the director of the Home Alone movies, also directed Robin Williams in Mrs. Doubtfire and wrote the creepy comedy Gremlins. Quidditch matches will begin in a theater near you in summer 2001.
As the news broke, Columbus was in Scotland meeting with Harry Potter author J. K. Rowling. Columbus says he is "thrilled and honored" to bring the Harry Potter books to the screen. "Between my four kids and all their friends, I've heard a lot about what this movie should be and how I could ruin it if I cut this or that scene," Columbus said. "I won't let anyone down. It will be a faithful adaptation."
Harry Potter and the Lawyers from Pennsylvania?
Back on this side of the ocean, Harry Potter is the subject of a Pennsylvania lawsuit. Nancy Stouffer, who wrote a 1984 book called The Legend of Rah and the Muggles, is accusing Rowling of plagiarism. The "muggles" in Stouffer's book are tiny people who take care of orphans. Stouffer claims Rowling copied the term "muggles" from her and says that other elements of their books are "suspiciously similar."
Rowling says any similarities are pure chance and that everything about Harry is her own invention. "'Muggles' is a twist on the English word 'mug', which means easily fooled," Rowling has said. "I made it into 'muggles' because it sounds gentler." A spokesperson from Rowling's American publisher calls the lawsuit "completely meritless." Nevertheless, it is expected to go to trial around the time of the movie's release.
Stouffer's books went out of print in 1987. When she tried to get them reprinted three years ago, she was rejected—publishers said readers might confuse Stouffer's "muggles" with those in the Harry Potter series. It has been reported that Stouffer's suit is against not just Rowling but against Scholastic book publishers, Warner Brothers movies, and toy companies Mattel and Hasbro, which plan to make Harry Potter merchandise next year.

UPDATE: In September 2002, Nancy Stouffer's lawsuit was dismissed. Stouffer was fined $50,000 for lying to the court and doctoring evidence. This decision was upheld on appeal in January 2004.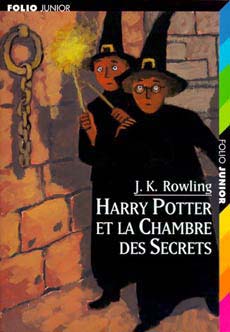 A French edition of the second Harry Potter book
Relief for Sufferers of Harry Potter Withdrawal
Readers around the world are anxiously awaiting the fourth Harry Potter book. Although Rowling is said to be running late in finishing Harry Potter and the Goblet of Fire, her publishers say the delay is no problem. The book is still due to appear in bookstores on July 8 of this year.
Meanwhile, libraries and bookstores are doing their best to help out eager Harry fans, offering reading suggestions and organizing book clubs. As a result, readers are rediscovering fantasy classics. In recent months Lloyd Alexander's fantasy novels have tripled in sales, and C. S. Lewis's Chronicles of Narnia have experienced a new surge in popularity.
Some booksellers are getting creative in their efforts. In Toronto, Mable's Fables bookstore for children has a colorful window display titled "Beyond Harry" that features suggested books to read while you're waiting for the next report on Hogwarts life. Joseph-Beth booksellers in Cincinnati sponsors a "Harry Potter Withdrawal Club" in which kids read other fantasy classics. A special clock on the wall counts down the time until the next book is released.