/ Autographed Set of Harry Potter Books to Be Auctioned Off
Autographed Set of Harry Potter Books to Be Auctioned Off
Updated February 21, 2017 |
Factmonster Staff

Auction to benefit Catie Hoch Foundation to begin September 1st
by Mark Zurlo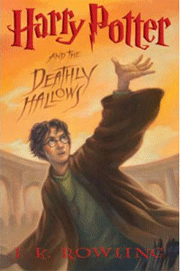 Deathly Hallows Quizzes
More on Harry Potter
While J.K. Rowling makes few public appearances and participates in even fewer book signings, fans now have a chance to obtain all seven books in the Harry Potter series, each autographed by the author. The catch? It will require a hefty sum of money to obtain the set, which will be auctioned off beginning at midnight on September 1, 2007.
Catie Hoch Foundation
The money will benefit a worthy cause, however, with all proceeds from the auction going to the Catie Hoch Foundation. Rowling has generously supported the foundation since Catie's death in 2000 from neuroblastoma, a form of pediatric cancer. Rowling began e-mailing the 9-year-old Harry Potter fan that year, and even called her on the phone to read portions of her then in-progress book, Harry Potter and the Goblet of Fire.
"A Break from Cancer"
The Catie Hoch foundation provides families of young cancer patients with funds which allow them to "take a break from cancer" and participate in a number of fun activities. The charity also provides funding for cancer research and endows a research position at New York's Memorial Sloan-Kettering Cancer Center, where Catie was treated. To bid on the autographed set, or to make a donation to the foundation, visit http://www.whenharrymetcatie.com/. The auction winner will be announced September 28th.