/ Things Kids Can Do: Write a Novel
Things Kids Can Do: Write a Novel
Updated May 24, 2017 |
Factmonster Staff

By Sally Greene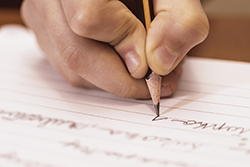 In this FactMonster feature "Things Kids Can Do," we highlight some amazing kids' accomplishments from around the world. In this article, we take a look at a young man by the name of Jake Marcionette. When he was just 12 years old he wrote his first novel, a diary-styled children's book entitled Just Jake, and by the time he was 13 he was on track to getting it published.
The Process
On Jake's official website, he says that he is a normal kid who wasn't always interested in writing. Though he started at a young age, his practice didn't come from his burning desire to write. In fact, his mom created a daily writing agenda for him. Eventually, Jake found a love for writing and during the summer of 2012 he began to write Just Jake. Once he was finished his parents published the book electronically on an online educational website. To Jake's surprise and delight it got great reviews. From then on he knew he wanted to move forward with the book and try to get it published as a physical book. Taking matters into his own hands, he began researching to find out what his next move would be and then soon began making calls to literary agents who he hoped would help him.
Jake was soon lucky enough to get picked up by Writers House Literary Agency which helped land him a contract with Penguin Young Readers Group. After two years of hard work, Jake's first book was published on Feb. 4, 2014, distributing 50,000 copies in its first run. The second Just Jake book was released in February of 2015, which was then followed by a third in January of 2016. Although Jake has already exceeded his contract requirements he isn't slowing down when it comes to writing, and we should expect to see even more books from him in the future.
The Best Seller
You may be asking yourself, what plot could a 12-year-old come up with that would lead to a best seller and two sequels? Well, Jake decided simply to write about his life and turn it into a novel. The Just Jake books tell the story of a 12-year-old sixth grader named Jake, who is based off of the author himself. Within the story, the reader follows the adventures of Jake as he and his family move from Florida to Maryland. He must then try to adjust to his new school and life in a different state. Jake touches upon a number of different topics such as friends, family, and school. The book's humor and relatability for younger audiences has helped it skyrocket to the top of the best-seller list.
What You Can Do
Jake is just one example of a kid achieving greatness through their creativity. If you want to write a book like Jake, practicing is the best starting point. Writing about anything and everything can really get the creative juices flowing. If you're ever stuck on what to write about, try to ask others to give you a prompt, borrow a book from the library on writing prompts or research different topics that interview. Here's a link to stories written by kids that were previously published on FactMonster. Maybe even like Jake--writing about your life could lead to a best seller.