/ Features
/ Sports
2014 Winter Olympics: Freestyle Skiing
Updated February 21, 2017 |
Factmonster Staff


Slopestyle added to freestyle mix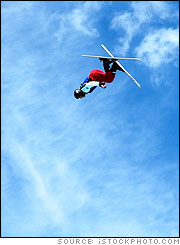 Related Links
Did You Know?
The word "mogul" comes from the Austrian word "mugel," which means "small hill" or "mound."
Freestyle skiing saw its first Olympic action at the 1988 Calgary Games as a demonstration sport. Its immense popularity, particularly with the Gen-X crowd, made it an official medal sport at Albertville in 1992 . It has been a staple of the Winter Olympics ever since.
In 2011, slopestyle, where athletes perform on a slope with various obstacles, was added as a new event. Also in 2011, the International Olympic Committee approved the halfpipe event for both men and women. Therefore, four new events would be part of Freestyle skiing at the 2014 Sochi Olympic Games.
The aerial event is perhaps the most breathtaking freestyle discipline. Competitors begin at a spot of their choice and ski straight down the mountain toward a concave jump (which can be as high as 13 ft) that hurls them into the air. They perform a variety of twists and somersaults in midair, and then attempt to stick the landing on their two skis. Sounds easy, right?
A panel of five judges ranks the jumps, guided by the following components: 50% form, 20% air, and 30% landing. The 16 women and 16 men with the best scores advance to the final round. Each competitor then jumps twice, and the highest combined score wins the gold.
In the moguls competition, skiers individually race down a mountain covered with large bumps measuring up to four feet. They must make aggressive turns while still keeping their shoulders parallel to the finish line. There are also two jumps, placed one-third and two-thirds of the way down the mountain. At each one, racers attempt to dazzle the panel of seven judges with "helicopters," "back-scratchers," and other creative jumps. The judges use the following criteria to rank the competitors: 50% turns, 25% air, and 25% speed.
Ski cross is similar to snowboard cross, and looks to be just as popular, with its mass start followed by a mad dash down the mountain.
Each heat features four skiers skiing down a course of turns, flats, traverses, rolls, banks, and ridges. Strength and endurance are key, but the most important factor is just plain speed.
At Sochi, the freestyle events will be held Feb. 6–21. Ski cross will be contested at the Rosa Khutor Extreme Park, along with aerials and moguls.
During the 2014 Winter Olympics in Sochi, American David Wise made history by winning the gold medal in the first ever halfpipe event. Wise was the favorite going into the event. In the first ever men's slopestyle event, it was a podium sweep for the United States. Americans Joss Christensen, Gus Kenworthy and Nick Goepper took the gold, silver and bronze medals. In the first Olympic women's slopestyle, American Devin Logan took the silver medal.
by Mike Morrison, Christine Frantz amd Jennie Wood