/ Features
/ Sports
Olympics: Beijing 2008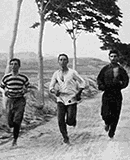 Summer Olympics History
Sports Overviews
Track and Field · Swimming · Gymnastics · Basketball · Beach Volleyball · More
Looking for information about Olympics History and Results?
Special Features
The Games  New
Summer Games Highlights: 2008
Day-to-day news from Beijing
Distribution of Medals—2008 Summer Games
From the United States to Venezuela
Other 2008 Summer Olympic Games Champions
From archery to wrestling
History of the Olympic Torch, Flame, and Relay
From symbolism of fire to criticisms and protests
Beijing Controversies
Tibet, Darfur, pollution, and the general destruction of Beijing
Summer Games: Gold Medals
A round-up of the major competitions
Olympics Timeline
From ancient Greece to the present day
Modern Olympic Symbols
Flames, doves, oaths, and more
Ancient Olympic Traditions
The Olympics draws on traditions of war, religion, economy
Olympic Fun Facts
Poland's "Stella the Fella" and other amazing trivia
Paralympics
Spirit in motion
The LZR Racer
The world's fastest swim suit
U.S. Olympic Training Facilities
Where Olympians live and train
Olympic Athletes
The sponsorship behind the athletes
The Olympics and Greece
The First Modern Olympics: Athens, 1896
Fourteen nations participated in the first modern Olympics
The Olympics of Ancient Greece
The first ancient games are believed to have begun in 776 B.C.
Memorable Moments
Jesse Owens
Track star Jesse Owens defiantly bucks Hitler
Louganis's Headache
The terrifying diving accident of Seoul's 1988 games
The Man with the Golden Shoes
Michael Johnson sets the pace in 1996
La Gazella: Wilma Rudolph
African-American track star and three-time gold medallist
A Perfect 10
Romanian gymnast Nadia Comaneci achieves perfection in 1976
Abebe on the Appian Way
Runner Abebe Bikila became the first black African to win gold
Read more memorable moments . . .
Fun Stuff
Quiz: Summer Olympics Trivia
Greek shepherd Spiridon Louis . . .
Quiz: The Ancient Olympics
The Olympics were held in honor of this Greek god . . .
Quiz: Ancient Greek Games (challenging)
Women competed in these games, which may predate the Olympics . . .
Quiz: Olympic Mascots
Hodori and Hosuni, the mascots of the 1988 Olympic Games in Seoul, South Korea, were what type of animal?
Quiz: Olympic Cities
Which country has won the most medals at the Olympic games—without ever hosting the games?
Quiz: Memorable Ceremonies
Which of the following items was not given to event winners at the first modern Olympic Games held in Athens in 1896?