/ Sports
/ Olympics
Memorable Olympic Moments: Abebe Bikila, Rome 1960
Updated February 21, 2017 |
Factmonster Staff

Runner Abebe Bikila became the first black African to win gold
by Gerry Brown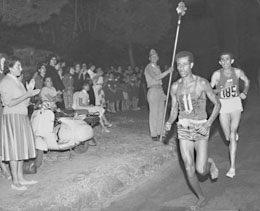 Abebe Bikila runs barefoot at the Rome Olympics in 1960.
Related Links
It was one of those nights. Ethiopian Abebe Bikila was an unforgettable sight running along the ancient Appian Way during that warm Roman evening in 1960. The race, which began in the evening in order to avoid the stifling summer heat, came down to just two runners in the final miles, the unheralded Bikila and Moroccan Rhadi Ben Adbesselem.
The skinny Bikila, running barefoot, flew by the soldiers standing with flaming torches along the darkening course that evening and slowly pulled away from his Moroccan opponent before crossing the finish line at the Arch of Constantine in a world-record time of 2:15:16. With his 26-second win over Rhadi, Bikila had become the first black African to win a gold medal in Olympic history.
Asked later why he ran barefoot, Bikila replied, "I wanted the world to know that my country, Ethiopia, has always won with determination and heroism."
Fittingly, his win came in Italy, the nation that invaded his homeland three decades earlier. Bikila would battle back from an appendectomy to repeat as Olympic marathon champion four years later in Tokyo, becoming the first ever to successfully defend a marathon gold medal. But it was on the streets of Rome that Bikila left his mark.