/ Italy
Italy
Facts & Figures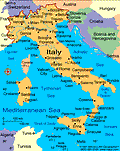 President: Sergio Mattarella (2015)

Prime Minister: Mario Draghi (2021)

Land area: 113,568 sq mi (294,140 sq km); total area: 116,348 sq mi (301,340 sq km); water area: 2, 779 sq mi (7,200 sq km)

Population (2022 est.): 61,095,551 (growth rate: -0.13%); birth rate: 6.95/1000; infant mortality rate: 3.16/1000; life expectancy: 82.59

Capital and largest city (2022 est.): Rome, 4.298 million

Other large cities: Milan 3.149 million; Naples 2.180 million; Turin 1.798 million; Bergamo 907,000; Palermo 850,000 (2022)

Monetary unit: Euro (formerly lira)

National name: Repubblica Italiana

Languages: Italian (official), German (parts of Trentino-Alto Adige region are predominantly German-speaking), French (small French-speaking minority in Valle d'Aosta region), Slovene (Slovene-speaking minority in the Trieste-Gorizia area)

Ethnicity/race: Italian (includes small clusters of German-, French-, and Slovene-Italians in the north and Albanian- and Greek-Italians in the south)

Religions: Christian 80.8% (overwhelmingly Roman Catholic with very small groups of Jehovah's Witnesses and Protestants), Muslim 4.9%, unaffiliated 13.4%, other 0.9% (2020 est.)

National Holiday: Republic Day, June 2

Literacy rate: 99.2% (2018 est.)

Economic summary: GDP/PPP (2020 est.): $2,322,140,000,000; per capita $39,000. Real growth rate: 0.34%. Inflation: 0.6%. Unemployment: 9.88%. Arable land: 22.8%. Agriculture: fruits, vegetables, grapes, potatoes, sugar beets, soybeans, grain, olives; beef, dairy products; fish. Labor force: 22.92 million; services 67.8%, industry 28.3%, agriculture 3.9% (2020). Industries: tourism, machinery, iron and steel, chemicals, food processing, textiles, motor vehicles, clothing, footwear, ceramics. Natural resources: coal, mercury, zinc, potash, marble, barite, asbestos, pumice, fluorospar, feldspar, pyrite (sulfur), natural gas and crude oil reserves, fish, arable land. Exports: $558.26 billion (2020 est.): engineering products, textiles and clothing, production machinery, motor vehicles, transport equipment, chemicals; food, beverages and tobacco; minerals, and nonferrous metals. Major trading partners (exports): Germany 12%, France 11%, United States 10%, United Kingdom 5%, Spain 5%, Switzerland 5% (2019). Imports: $486.35 billion (2020 est.): engineering products, chemicals, transport equipment, energy products, minerals and nonferrous metals, textiles and clothing; food, beverages, and tobacco. Major trading partners (imports): Germany 16%, France 9%, China 7%, Spain 5%, Netherlands 5%, Belgium 5% (2019).

Communications: Telephones: main lines in use: 19,607,341 (2020); mobile cellular: 77,581,048 (2020). Broadcast media: two Italian media giants dominate - the publicly-owned Radiotelevisione Italiana (RAI) with 3 national terrestrial stations and privately-owned Mediaset with 3 national terrestrial stations; a large number of private stations and Sky Italia - a satellite TV network; RAI operates 3 AM/FM nationwide radio stations; some 1,300 commercial radio stations (2020). Internet hosts: 25.662 million (2010). Internet users: 41,614,669 (2020).

Transportation: Railways: total: 18,892.4 km (2014). Roadways: total: 487,700 km; paved: 487,700 km (including 6,700 km of expressways) (2007). Waterways: 2,400 km; note: used for commercial traffic; of limited overall value compared to road and rail (2012). Ports and terminals: Augusta, Cagliari, Genoa, Livorno, Taranto, Trieste, Venice oil terminals: Melilli (Santa Panagia) oil terminal, Sarroch oil terminal. Airports: 129 (2021).

International disputes: Italy's long coastline and developed economy entices tens of thousands of illegal immigrants from southeastern Europe and northern Africa.
Next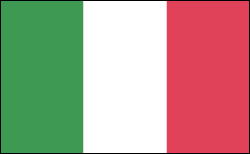 Index
---