/ Israel
Israel
Facts & Figures

President: Reuven Rivlin (2014)

Prime Minister: Benjamin Netanyahu (2009)

Land area: 7,849 sq mi (20,329 sq km); total area: 8,019 sq mi (20,770 sq km)

Population (2014 est.): 7,821,850 (growth rate: 1.46%); birth rate: 18.44/1000; infant mortality rate: 3.98/1000; life expectancy: 81.28

Capital and largest city (2009 est.): Jerusalem, 791,000 Note: Israel proclaimed Jerusalem as its capital in 1950, but the U.S., like nearly all other countries, maintains its embassy in Tel Aviv.

Other large cities: Tel Aviv-Yafo 3.381 million; Haifa 1.054 million

Monetary unit: Shekel

National name: Medinat Yisra'el

Languages: Hebrew (official), Arabic, English

Ethnicity/race: Jewish 75.1% (of which Israel-born 73.6%, Europe/America/Oceania-born 17.9%, Africa-born 5.2%, Asia-born 3.2%), non-Jewish 24.9% (mostly Arab) (2012 est.)

Religions: Jewish 75.1%, Muslim 17.4%, Christian 2%, Druze 1.6%, other 3.9% (2012 est.)

National Holiday: Independence Day, April or May 14

Literacy rate: 97% (2004 est.)

Economic summary: GDP/PPP (2014 est.): $273.2 billion; per capita $36,200. Real growth rate: 3.3%. Inflation: 3.9%. Unemployment: 1.7%. Arable land: 13.68%. Agriculture: citrus, vegetables, cotton; beef, poultry, dairy products. Labor force: 3.493 million; agriculture 1.65%; industry 18.1%; services 80.3% (2012). Industries: high-technology projects (including aviation, communications, computer-aided design and manufactures, medical electronics, fiber optics), wood and paper products, potash and phosphates, food, beverages, and tobacco, caustic soda, cement, construction, metals products, chemical products, plastics, diamond cutting, textiles, footwear. Natural resources: timber, potash, copper ore, natural gas, phosphate rock, magnesium bromide, clays, sand. Exports: $62.32 billion (2012 est.): machinery and equipment, software, cut diamonds, agricultural products, chemicals, textiles and apparel. Imports: $67.03 billion (2013 est.): raw materials, military equipment, investment goods, rough diamonds, fuels, grain, consumer goods. Major trading partners: U.S., Belgium, Hong Kong, Germany, Switzerland, UK, China (2006).

Communications: Telephones: main lines in use: 3.594 million (2012); mobile cellular 9.225 million (2012). Broadcast media: state broadcasting network, operated by the Israel Broadcasting Authority (IBA), broadcasts on 2 channels, one in Hebrew and the other in Arabic; 5 commercial channels including a channel broadcasting in Russian, a channel broadcasting Knesset proceedings, and a music channel supervised by a public body; multi-channel satellite and cable TV packages provide access to foreign channels; IBA broadcasts on 8 radio networks with multiple repeaters and Israel Defense Forces Radio broadcasts over multiple stations; about 15 privately owned radio stations; overall more than 100 stations and repeater stations (2008). Internet hosts: 2.483 million (2012). Internet users: 4.525 million (2009).

Transportation: Railways: total: 975 km (2008). Roadways: total: 18,566 km; paved: 18,566 km (including 449 km of expressways) (2011). Ports and terminals: Ashdod, Elat (Eilat), Hadera, Haifa. Airports: 47 (2013).

International disputes: West Bank and Gaza Strip are Israeli-occupied with current status subject to the Israeli-Palestinian Interim Agreement - permanent status to be determined through further negotiation; Israel continues construction of a "seam line" separation barrier along parts of the Green Line and within the West Bank; Israel announced its intention to pull out Israeli settlers and withdraw from the Gaza Strip and four settlements in the northern West Bank in 2005; Golan Heights is Israeli-occupied (Lebanon claims the Shab'a Farms area of Golan Heights); since 1948, about 350 peacekeepers from the UN Truce Supervision Organization (UNTSO) headquartered in Jerusalem monitor ceasefires, supervise armistice agreements, prevent isolated incidents from escalating, and assist other UN personnel in the region.
Next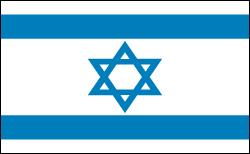 Index
---