/ Features
/ Sports
Security a Big Concern in Sochi
Updated February 21, 2017 |
Factmonster Staff


Threat of terrorist attacks prompts heightened security measures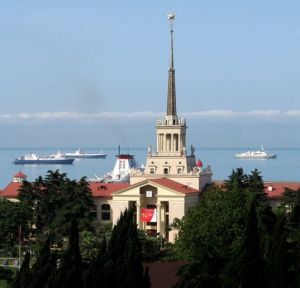 Related Links
The threat of a terrorist attack or other type of violence has loomed over Sochi since Russia won the honor to host the Games in 2007. Sochi is located in the heart of a region known for extremist violence: 200 miles from Chechnya, 250 miles from Dagestan, and bordered by the disputed territory of Abkhazia. Fear of an attack intensified after a series of bombings in December 2013 and January 2014. However, Russia has implemented unprecedented security measures for the Games to prevent such acts of terror.
More than 25 people were killed and dozens wounded in December in two suicide bombings in Volgograd, a city in southern Russia 400 miles away from Sochi. In January 2014, a bomb exploded and suspicious deaths occurred in neighboring Stavropol Territory. No group claimed responsibility for the bombings, but Chechen separatists were suspected. Doku Umarov, a Chechen militant who heads the Islamist Caucasus Emirate, released a video in July 2013 calling for attacks on the Winter Olympics.
Never has a host country experienced this level of violence so close to the Olympic Games. After the bombings, Russian president Vladimir Putin beefed up security at train stations and airports. A special exclusion zone was set up around Sochi, and only designated vehicles are allowed entrance to the city, air and water access to Sochi are limited, and security checks are required for anyone entering the exclusion zone. The U.S. State Department issued a warning about the violence in the region:
Acts of terrorism, including bombings and hostage takings, continue to occur in Russia, particularly in the North Caucasus region. Additionally, between October 15-December 30, 2013, there were three suicide bombings targeting public transportation in the city of Volgograd, two of which occurred within the same 24-hour period. Other bombings have occurred at Russian government buildings, airports, hotels, tourist sites, markets, entertainment venues, schools, and residential complexes. There have also been large-scale attacks on public transportation including subways, buses, trains, and scheduled commercial flights.
Security Forces Will Take to the Air and Sea to Protect Sochi
During the Olympics, 40,000 law enforcement officials will be deployed between the two main areas: the coastal cluster and the mountain cluster. Ships, sonar devices, submarines, helicopters, and drones will provide security at the coastal cluster, and a brigade of elite special forces will patrol the mountain cluster on snowmobiles, four-wheeled bikes, and foot. In addition, several thousand cameras have been placed on the streets of Sochi and at the competition areas. Officials will monitor the cameras from a central command center. For the first time, spectators must submit to background checks. For the 2012 London Olympics-bigger Games in a bigger city-about 12,000 police and security officers were on hand. The price tag for security at the 2014 Games is estimated to be about $2 billion; the bill for the entire 2010 Games was $7 billion. Given the sheer size of the police force and the security plan already in place, officials were less concerned about an attack on a major venue in Sochi than on a soft target, such as train stations, hotels, public gathering places located outside the security zone.
Terrorists Not the Only Target of Beefed Up Security
While the focus of intense security will certainly be potential terrorists, athletes, spectators, government officials, and journalists will be watched like never before at an Olympics. According to Russian journalists Andrei Soldatov and Irina Borogan, the Federal Security Bureau (FSB), the successor to the KGB, will monitor all internet and telephone traffic. The region's wifi networks have been outfitted with Deep Packet Inspection, a tool that allows the FSB to track and access every email, phone conversation, and social media interaction in Sochi. A new Russian decree states that the data can be stored for three years.
"Everyone should expect that all their communications, all the technical devices like smart phones, laptops, will be completely transparent," said Soldatov.
In response to the heightened surveillance, the U.S. State Department reminded visitors to Sochi that Russia "permits the monitoring, retention and analysis of all data that traverses Russian communication networks."
Spectators, athletes, and officials have every reason to feel safe at the Games, but at the expense of privacy.