/ Features
/ Sports
Winter Olympics 2014: Sochi Preview
Updated February 21, 2017 |
Factmonster Staff


What to expect at the 2014 Winter Olympic Games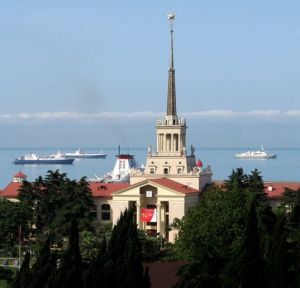 Related Links
Sochi, Russian Federation is set to host the Winter Olympics Feb. 7–23, followed by the Paralympic Games from March 7–16.
Extreme Games
Cities, governments, mayors, and presidents vie for the honor to host the Olympic Games, betting that investing huge sums in infrastructure and event-specific development will payoff in terms of tourist revenue, positive publicity, and sustained growth and income. Even with this perspective, Sochiâs Game preparations seem extreme. From the longest torch relay (40,000 miles) to the largest expenditure ($50 billion), the Russian Federation seems intent on impressing the world. Only time will tell if the Sochi Olympic vision will be fulfilled or if the very real threat to human rights and life will prove the dream illusory.
Torch Relay
The torch of the Winter Games is red, the color of Russian sport. Arriving in Moscow on Oct. 7, 2013, the flame began a truly Olympian journey. From the depths of the deepest lake to a spot beyond the stars, the Russian Olympic Committee hopes the torch will shed light on the wonders of their vast lands. Some 14,000 people carried the torch, including cosmonauts Sergei Ryazansky and Oleg Kotov, who guided the torch on its first-ever spacewalk (unlit because âcombustion is impossible in outer spaceâ). The torch also visited the frosty waters of Lake Baikal, where, thanks to signal-fire technology, the lit flame was passed at a depth of 13 meters (32.8 ft) to Mikhail Chuey, who, outfitted with a jetpack, rocketed to the surface, flew through the air, and landed on shore. The torch also visited one of the coldest cities on Earth, Yakutsk, where the lowest-ever temperature of the torch relay of -35°C (-31°F) was recorded.
This kind of grand effect is not without mishaps and malfunctions. The Guardian reported that Olympic bobsledder Pyotr Makarchuk caught on fire while participating in the relay in Siberia in November. Roman Osin, a Sochi 2014 torch relay spokesman, reassured the public, saying that only on three occasions so far had the flame actually set people on fire: âItâs not dangerous,â Osin said. âIt didnât even damage the garments of the torchbearers.â Sadly, on Dec. 16, the relay claimed one life. Vadim Gorbenko, 73, a sports school director and Greco-Roman wrestling coach, suffered a heart attack and died after walking a few hundred feet with the torch in his home city of Kurgan in western Siberia.
Diamond Vision
Guided by a so-called Games Vision, the Russian Federation hopes to promote the Russian Diamond, made of nine core elements: excellence, efficiency, integration, hospitality, unity, uniquenes, respect, legacy, and harmony. Organizers hope these Olympics reflect a country rich in history, with a successful future; a country open to opportunities; and a country committed to equality and diversity. It is a tall order.
The Russian Olympic Committee claims a green approach to construction and development, a design that is ambitiously âbarrier-freeâ and fully accessible, and completely high-tech. Russian president Vladimir Putin hopes that the 2014 Olympics will transform Sochi from a summer resort for Russians, to a world-class destination for the worldâs population. He hopes to create a lasting legacy of quality infrastructure--physical, intellectual, and social. The newly established Russian International Olympic University is poised to produce a new generation of Russian sports managers. And the Volunteer Movement is being reborn in Russia, with the goal of peaceful, productive dialogue between peoples.
Squats for All
Guided by the International Olympic Committeeâs overarching goal of Sport for All, the Russian Olympic Committee is playing its small part in bringing sports to the people. In the Vystavochaya subway station, passengers can compete to pay their way in exercise, specifically squats, which is a fundamental strength exercise that builds muscles of the hips, thighs, buttocks, quadriceps, and hamstrings-all while engaging the core. If you can complete at least 30 squats in two minutes, you get a free ticket. Encouragement from onlookers is also free, and the sense of personal pride is priceless.
Sexuality, Sport, and Human Rights
A bill signed into law by President Vladimir Putin in July 2013 sparked international outrage with its ban of the "propaganda of nontraditional sexual relations." The language of the bill was vague, but it was seen by the international community as an effort to crack down on homosexuality and generated indignation from many of the countries set to participate in the Winter Games. The Russian minister of sport explained that gay athletes are welcome to come to his country, but if he or she were found publically promoting nontraditional sexual orientation they would face fines, arrest, and/or deportation. This is the latest entry in a human rights record that is far from unblemished. In a 2013 comparative assessment report by Freedom House, the Russian Federation was 1 of 47 countries categorized at the lowest freedom-measuring level: Not Free (NF). With a score of 6 for Political Rights and 5 for Civil Liberties, on a scale of 1-7 (1 being most free and 7 being least free), Russia is considered a country in which âbasic political rights are absent, and basic civil liberties are widely and systematically denied.â
Many Dreams, Real Danger
In a country where drivers âoften do not yield to pedestrians crossing the streetâ and a city in which the population is set to increase tenfold, traffic will be nightmarish, and it will be dangerous enough to walk down the street. Add to that Sochiâs strategic location in the heart of a region known for extremist violence (200 miles from Chechnya, 250 miles from Dagestan, bordered by the disputed territory of Abkhazia), the risks of travelling to and within Sochi are very real. Visitors to Sochi should expect an increased police presence and enhanced security in the Olympic Park and beyond. Measures include patrol boats, robotic vehicles, and airborne drones. This is unfortunately not unusual for any large-scale public events of recent memory. What is new is the straightforward warning from the U.S. State Department: From the U.S. State Department:
Acts of terrorism, including bombings and hostage takings, continue to occur in Russia, particularly in the North Caucasus region. Additionally, between October 15âDecember 30, 2013, there were three suicide bombings targeting public transportation in the city of Volgograd, two of which occurred within the same 24-hour period. Other bombings have occurred at Russian government buildings, airports, hotels, tourist sites, markets, entertainment venues, schools, and residential complexes. There have also been large-scale attacks on public transportation including subways, buses, trains, and scheduled commercial flights.

In 2010, the U.S. designated the Caucasus Emirate (known in Russian as the Imirat Kavkaz or IK) and its head, Doku Umarov, as a terrorist organization. The Caucasus Emirate is responsible for many of the aforementioned attacks. In July 2013, Doku Umarov released a video message rescinding prior directions not to attack civilians and calling for attacks on the Winter Olympics in Sochi. This terrorist group has previously targeted civilians, including attacks on a ski resort, metro system, high-speed rail, airport, and a theater, as indirect supporters of the government. Westerners have not specifically been targeted, but are viewed by IK as complicit in the Russian government's efforts to control the North Caucasus region.
So far, no participating countries are advising an extreme response to the danger. In a blanket statement, the U.S. State Department advises visitors to âbe aware of their personal surroundings and follow good security practices. . .to remain vigilant and exercise good judgment and discretion.â The Australiaâs Olympic Committee has taken it a step further, stating that their athletesâ travel will be restricted out of concern for their safety.
—Catherine McNiff