/ Features
/ Sports
2010 Olympics: Figure Skating
Updated February 21, 2017 |
Factmonster Staff


Artistry takes center stage
by John Gettings and Christine Frantz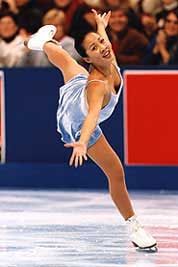 Related Links
Memorable Moments
Once a vital means of transportation throughout northern Europe, ice skating evolved into a sport during the 18th century.
The man credited with giving birth to the type of figure skating we see today is Jackson Haines, an American from New York.
In the early 1860s, Haines's new combination of music, ballet, ice skating, and dancing wasn't well received in this country. So he took his revolutionary ideas to Vienna, Austria, where they flourished.
Figure skating debuted at the 1908 Olympic Summer Games in London. The singles and pairs competitions have been a part of every Winter Games since 1924. The ice dancing competition was introduced in 1976.
The men's and women's singles competitions and the pairs competition each consist of two parts: a short program, in which skaters must complete required elements; and a free skate, which is a longer program that has few restrictions and emphasizes skaters' artistry.
The ice dancing competition has three parts: a compulsory dance, an original dance, and a free skate.
Figure skating was in the spotlight in the 2002 Olympics when it was discovered that vote-swapping had pushed the Russian pair into first place above the near-flawless Canadian performance. The French judge was sent packing and in an Olympic first, the gold was awarded to both the Canadians and the Russians. In response to the events at the 2002 Olympics, figure skating judging and scoring have been overhauled. The old six-point system is gone, replaced by one in which the performance is awarded points for a technical score as well as five other elements: skating skills, transitions, performance/execution, choreography, and interpretation. Also, no more booing of any particular judge—it's now anonymous, so the whole lot of them will have to get the raspberry.
p>At the 2010 Vancouver Games, the figure skating events will be held Feb. 18–25, with the exhibition gala taking place on Feb. 27. All skating will take place at the Pacific Coliseum; ice time will be shared with short track speed skating.
The men's singles will be held Feb. 16 and 18, while the women's singles will be held Feb. 23 and 25.
Figure skating is notorious for injury. Many top competitors are choosing not to participate in events leading up to the Olympics in order to be in top form for Vancouver. As of Nov. 2009, the International Skating Union's world standings (based on points accumulated in international competition)show the following women in the top four spots: current World Champion Kim Yu-Na of Korea, Italy's Carolina Kostner, Mao Asada of Japan, and five-time Canadian national champion Joannie Rochette. For the men, Czech Tomas Verner, USA's Evan Lysacek and Jeremy Abbott, and Brian Joubert of France fill the top spots.
China has two pairs in the top four, with Germany and Russian also making their presence known.
It is in the ice dancing event that things are expected to heat up in Vancouver. For the first time, the United States looks to have two ice dancing teams vying for gold. The team of Davis and White is currently ranked first, but the U.S. also has time-tested favorites in Belbin and Agosto. The Russian team of Domnina and Shabalin, and Canadians Virtue and Moir are also top contenders-fully able to work ice dancing alchemy, combining athleticism and artistry to win Olympic gold.