/ Features
/ Sports
2010 Olympics: Snowboarding
Updated February 21, 2017 |
Factmonster Staff


U.S.-dominated crowd pleaser
by Gerry Brown and Christine Frantz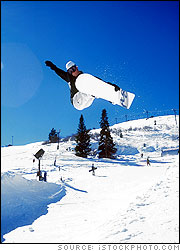 Related Links
Did You Know?
According to the National Sporting Goods Association, U.S. consumers spent more than $234 million on snowboarding equipment in 2000. That's more than hockey and football equipment combined ($221 million).
At Vancouver, snowboarding makes its fourth Olympic appearance. The sport, which first appeared at the 1998 Nagano Games, is still a work in progress as events are changed and added. For the 2006 Games, a new event, snowboard cross, was added.
There are six snowboarding events: men's and women's halfpipe, men's and women's parallel giant slalom, and men's and women's snowboard cross. The newest snowboard cross event has a course made up of different sections: whoops (moguls), waves, banks, kickers, and spines (jumps with 90 angles), with a series of blue and red gates and triangular flags marking the course and indicating entrances to obstacles.
Each run is scored on a scale of 0.1 to 10.0 by a panel of five judges.
One judge scores the standardized moves, another scores amplitude (the height of maneuvers), one scores quality of rotations, and two score overall impression.
For the amplitude score each maneuver is given an additional point for every 30 centimeters that the competitor reaches above the lip of the pipe. The scores for each maneuver are averaged to determine the final amplitude score.
Falls and other mistakes lead to deductions. The format for point deduction in halfpipe is as follows:
0.1?0.4 for an unstable body, flat landing, or missed airs
0.5?0.9 for using hand for stability
1.0?1.5 for minor falls or body contact with the snow
1.6?1.9 for complete falls
2.0 for a complete stop
In the parallel giant slalom, the riders take qualifying runs, and the top 16 men and top 16 women are ranked according to their times. Then they face off in a bracket format with 1 facing 16, 2 facing 15, etc. The two competitors face in a two-race match (once on each course). The winner is the racer that posts the best total time.
The winners of each match move on to the next round until the semifinals. The two semifinals winners race for the gold (the loser gets the silver) and the semifinals losers race for the bronze.
The United States is a force to be reckoned with when it comes to snowboarding. The athletes are strong, and the team is deep. For the men's team, Shaun White, a.k.a The Flying Tomato, who won the gold medal at the 2006 Games in Torino, is expected to repeat his performance in Vancouver. He is quickly becoming a snowboarding legend and happens to be a world-class skateboarder as well. On the women's side, Kelly Clark, who won gold at the Salt Lake City games in 2002, is expected to win again.