/ Features
/ Sports
Women's World Cup Preview: 2015
Updated February 21, 2017 |
Factmonster Staff

Canada hosts the 2015 FIFA Women's World Cup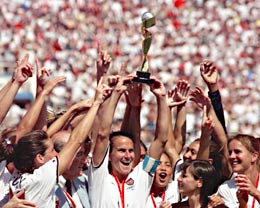 Related Links
Notable Female Soccer Players
The seventh FIFA Womenâs World cup will be held June 6-July 5, 2015 in Canada. Six cities spanning the breadth of the North American country-Edmonton, Moncton, Montreal, Ottawa, Vancouver, Winnipeg-will play host to 24 international teams playing in 52 total matches to determine which team will bring home the championship cup.
New for 2015
In 2015, the winner of the Womenâs World Cup (WWC) will have won seven matches-one more than in 2011. The rosters for each team list 23 players-two more than the last Cup. And 24 teams will be competing, up from 16 in 2011. New-to-the-WWC technology, the Hawk-Eye goal-line camera monitoring system will utilize seven cameras per goal, delivering data with millimeter accuracy within one second to each match officialâs watch via vibration and visual signal.
How the Game Is Played
The 24 teams are divided into six groups of four teams each.
Group A: Canada, China, New Zealand, Netherlands
Group B: Germany, Cote dâIvoire, Norway, Thailand
Group C: Japan, Switzerland, Cameroon, Ecuador
Group D: USA, Australia, Sweden, Nigeria
Group E: Brazil, Korea, Spain, Costa Rica
Group F: France, England, Colombia, Mexico
Each group will play a round-robin of six games; winners and runners-up from each group will join the best four third-place teams in the knockout stage. The knockout stage will see 16 teams in fur rounds of matches. Eight teams will then advance to quarter-finals, four to semi-finals, and the final two in the final. A playoff will determine the third and fourth place.
Outlook
Teams to watch include the defending champions, Japan; a team Germany has its eye on, France; highest ranked Germany, and the United States, looking for its third WWC win.
Current FIFA rankings:
Germany
USA
France
Japan
Sweden
England
Canada
Brazil
Australia
Norway
Who You Won't Be Watching
North Korea will not be competing in Canada. At the 2011 FIFA Womenâs World Cup, five players tested positive for performance-enhancing drugs (from traditional musk deer gland therapy) and the team was banned from 2015 competition. This is the first time a womenâs team has been banned.

Interesting Facts, USA National Team
Each 23-woman roster must include three goalkeepers
The team includes six players from California, four from New Jersey, two from Georgia, and two from St. Louis, Mo.
There are USA players making their first Womenâs World Cup roster: Ashlyn Harris, Alyssa Naeher, Whitney Engen, Julie Johnston, Meghan Klingenberg, Morgan Brian, Sydney Leroux and Christen Press.
The roster includes 11 players (of 13), who played in the 2012 Olympic gold medal game.
The average age of 28 of the USAâs WWC roster is 28; the two youngest players are Morgan Brian, 22 and Julie Johnston, 23; the oldest players are Christie Rampone, 39 and Shannon Boxx, 38.
Catherine McNiff