Frank Sinatra
Updated February 21, 2017 |
Factmonster Staff

Frank Sinatra: 1915–1998
by Beth Rowen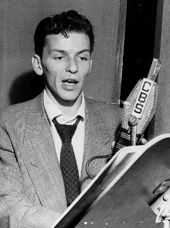 Source: Archive Photos
Few stars have shone as brightly as Ol' Blue Eyes. Frank Sinatra has left an indelible mark on generations who fell in love with his romantic voice, charismatic delivery and his tough-guy image on and off the big screen.
Even fewer celebrities have enjoyed six decades of adoration from critics and fans alike. And critics are by no means quick to lavish praise, especially on artists revered as much for their bad-boy heartthrob status as for their talent. Sinatra's mob ties and his turbulent personal life have always been rich tabloid fodder, and, at times, have cast shadows on his career.
Sinatra packed auditoriums and movie theaters from 1930s until as recently as 1996. He burst onto the scene as a big-band singer with the Harry James and Tommy Dorsey bands and immediately won the hearts of swooning bobby-soxers with his smooth, romantic renditions of hits such as "I'll Never Smile Again" and "This Heart of Mine." It wasn't long before he shifted gears and embarked on a solo career, becoming one of the most influential song stylists of the day. He's widely credited with bringing about the demise of the big-band era and inspiring the dawn of the solo artist.
As his career blossomed, Sinatra matured as an artist and strove to make the popular song an art form that appealed to audiences beyond the teeny-bopper set. He incorporated elements of jazz, big band and classical into his standards, and the transition was fabulously successful. His pop hits dominated the charts and spoke to each individual fan. Sinatra created some of the finest finger-snapping cocktail tunes (Songs for Swingin' Lovers), as well as potent, sentimental torch songs (Only the Lonely).