Frank Sinatra
Updated February 21, 2017 |
Factmonster Staff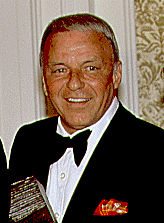 Source: Archive Photos

Sinatra continued to wow critics and fans when he made the leap to film and emerged as a serious actor. His role as doomed soldier Angelo Maggio in 1953's poignant portrait of military life, From Here to Eternity, earned him a Best Supporting Actor Oscar. The golden statue was not a fluke. Two years later, Sinatra was nominated again, this time in the Best Actor category, for his turn as a heroin addict in The Man With the Golden Arm. (He lost to Marty's Ernest Borgnine.)

From Here to Eternity was more than just the film that solidified Sinatra's credibility as an actor. It was the movie that saved his career. In the early 1950s, casting miscues, hemorrhaged vocal chords and personal scandal had nearly devastated him professionally. On the Town, the 1949 hit co-starring Gene Kelly, was Sinatra's last successful film until From Here to Eternity. With his popularity waning, Sinatra found it was no easy task securing a role in the Eternity. He reportedly needed his then wife Ava Gardner's influence, along with some help from his friends in the mob to strong arm his way into the movie, and he took only $8,000 for the part, far less than the $150,000 fee he had commanded in previous films. The film resurrected Sinatra and propelled him back on top of Hollywood's A-list. Not to jeopardize his career again with breezy roles, Sinatra made judicious choices the next time around. He put his voice to the test in 1956's High Society and starred in 1962's powerful Cold War drama The Manchurian Candidate opposite Angela Lansbury.