/ History
/ World
Time Tangled Island: Aztec Empire
Updated February 21, 2017 |
Factmonster Staff

Factropica Fast Facts and quizzes
by Beth Rowen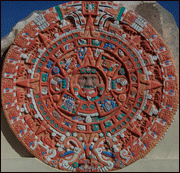 Related Links
Factropica Fast Facts
Tenochtitlán (modern Mexico City) was the capital of the Aztec empire.
The Great Pyramid of Tenochtitlan stood about 197 feet (60 meters) high. A shrine to the god Huitzilopochtli sat atop the Great Pyramid. It was the site of both sacrifices and festivals.
The Aztecs made important developments in engineering, architecture, art, math, and astronomy.
The Aztecs used two calendars: a 260-day cycle for rituals and a 365-day cycle for the civil year. The Aztec sun stone is 12 feet in diameter and shows both calendars. It is one of the most famous sculptures from the Aztec Empire.
Montezuma ruled the Aztecs from about 1502–1520. He was a brutal ruler, and his reign was known for continuous warfare.
The Aztecs worshipped many gods, including Huitzilopochtli. He was the Aztec's primary god, and the god of the sun and of war.
Hernán Cortés, along with 500 Spaniards, arrived in Mesoamerica in 1519 and found the region rich in gold. He captured Montezuma and forced him to pledge allegiance to the king of Spain.
Cacao beans were used as currency in the Aztec Empire.
Nahuatl was the native language of the Aztecs. Dialects of it are still spoken in rural areas of Mexico. The words avocado, chocolate, and tomato are derived from Nahuatl.