Holocaust Reparations
Updated February 21, 2017 |
Factmonster Staff

Holocaust Reparations
Looted gold makes its way across half a century to compensate slave laborers
---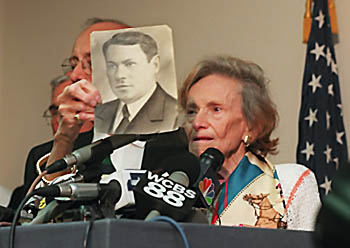 Holocaust survivor Estelle Sapir displays a photo of her late father Joseph Sapir, a World War II death camp victim, during a news conference announcing a settlement with Credit Suisse over her claim on her father's account. Behind her is Sen. Al D'Amato, chairman of the Senate Banking Committee.
This article was posted on March 15, 1999.
Taking a lesson from their Swiss neighbors, the German government and many German businesses are looking for a quick settlement to lawsuits seeking reparations for wartime acts.
Holocaust
survivors and their families have been working for years to convince Swiss banks to release assets frozen when the account holders did not come forward after the war.
With the Swiss finally bowing to pressure, the focus has shifted to Germany and the private sector, particularly businesses that profited from the use of slave labor from labor camps during the war.
Swiss Banks
After years of denying that dormant accounts of Holocaust victims even existed, in 1997 Swiss banks produced a list of thousands of people with accounts that had seen no activity since the War. They set up a voluntary fund to aid elderly survivors of the Holocaust, and contributions to the fund quickly mounted to some $200 million. Payments ranging from $500 to $1,200 were sent to more than 100,000 Eastern European Holocaust survivors in November and December 1998, with those in Western Europe receiving disbursements in February 1999.
 

---

In July 1998, Volkswagen admitted that it had used labor from 15,000 slaves during the war, and announced plans to set up a fund to compensate these workers. Until the announcement, the company had denied responsibility for using slave labor, saying that they acted on government orders.

---
Though the $200 million fund was an important step in acknowledging the role the Swiss played during the War, it was largely a public relations effort. The fund was voluntary and admitted no liability — the banks had set it up rather than acknowledge responsibility for laundering the profits of Nazi looting and slave labor in factories.
It was not until March 1998 that an agreement was reached to negotiate a global settlement of many legal claims against the banks. The three most prestigious Swiss banks—
Union Bank of Switzerland
, the Swiss Bank Corp., and
Credit Suisse
—agreed to set up a restitution fund in the U.S. to repay Holocaust victims for economic losses facilitated by the Swiss.
The agreement encompasses deposits by individuals who were killed during the war, as well as deposits of the proceeds from the sale of looted gold, real estate, and art. The fund will also include deposits of German companies who profited from slave labor, but notably does not include any money from the Swiss central bank, which received the majority of the gold stolen by the Nazis.
The banks ultimately agreed to pay $1.25 billion into the fund, which will be distributed as financial aid and medical services to hundreds of thousands of survivors, 50,000 of whom reside in the U.S. Under the agreement worked out in November 1998 in Jerusalem, all legitimate claimants and their heirs to dormant Swiss bank accounts will receive their full proceeds, which will account for approximately $100 million of the fund.
German Businesses
In July 1998,
Volkswagen AG
admitted that it had used labor from 15,000 slaves during the war, and announced plans to set up a fund to compensate these workers (many of whom are now dead). Until the announcement, the company had vigorously denied responsibility for using the slave labor, saying that they acted on government orders.
In fact, the company is still 20% owned by the government of the region of Lower Saxony, of which
Gerhard Schröder
was governor before winning the election in 1998 to become German Chancellor. Apparently Volkswagen changed its position in part because of the politically untenable and hypocritical action of buying two luxury automakers (Rolls Royce and Lamborghini) but refusing to repay those who had worked for the company under appalling conditions. The decision came on the heels of another court case in which a weapons maker, Diehl Stiftung & Co., reached an out-of-court settlement to pay $700 a month to former slave laborers.
By February 1999, the German government, now led by Schröder, announced plans to pay reparations to victims of Nazi atrocities from funds provided by some of the country's largest companies. By agreeing to set up a fund that acknowledges responsibility for profiting from slave labor, the German government hopes to end the various lawsuits filed on behalf of Holocaust victims suing dozens of German firms and banks for damages. Though the magnitude of the German fund has yet to be specified, it is expected to amount to $1.7 billion, with a dozen major German businesses—including Deutsche Bank, Daimler-Benz, Volkswagen, and Siemens—participating.