Tips for Staying Focused During Writing an Essay and How To Prevent Distraction
Updated September 26, 2022 |
Joe Eckel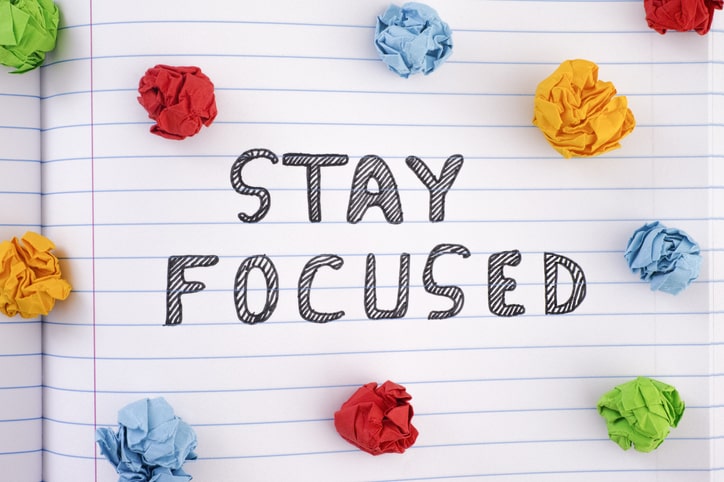 College can be stressful when you're trying to keep your grades, hold a part-time occupation, or maintain relationships. Most of us are distracted by text messages, push notifications, and phone calls. The typical student is distracted for at least five out of every 15 minutes they set aside to study, typically due to social media and texts. However, many other factors can affect your productivity. Here are some tips for you on how to stay productive and focused. 
1. Stay Immersed in the Flow
Psychologists talk about a powerful kind of concentration called ' the flow.' It occurs when someone is focused and engaged in the task. If you write like this, it's easy to write fluently. We all recognize this condition. "Time flies when you're having fun" is one way to describe it. Meditation may be an alternative. This is different if you play video games or sports and feel at one with the activity. These mental states all require focus.
2. Accept Your Distractions
You'll get distracted. You'll be distracted by your thoughts. You'll be reluctant to start. Accept it. Sitting in the back is important, and watching how your brain is acting. When this happens, stand far away from yourself. Pay attention to the disorientation. Then, identify the culprit. Remember that you are trying to focus, and it'll be much simpler to return your attention to your task.
3. Find a New Place
Do you think you can write more efficiently when you purchase an updated pen? It can benefit from change even if the result is only temporary. Sometimes it's a matter of changing the area (go into the parks, coffee shops, other rooms, and more), or a different method (use an eraser or pencil, a typewriter, or another word processor) can be helpful.
4. Write According to a Plan.
If you are in the middle of a hectic week with deadlines to meet, you can create a block of the time you spend working. This will allow you to allocate time, track progress on larger-scale projects, and ensure sufficient time to complete the work you had set out to do. Some people find it useful to figure out their most effective time for writing and then follow the schedule.
5. Turn Off Distracting Devices.
Switch off your radio or TV, close the doors and your email application or switch off your phone, close all unnecessary tabs and use a non-distracting word processor. You can fully screen your writing program. If you can prevent distractions before they occur and let you concentrate on your writing, the more productive.
6. Don't Worry To Edit
Editing isn't writing. Don't allow your inner self-editor to interfere with the copywriter who is super-productive in yours. Writing well means accepting that the first draft may not be flawless. Make notes for yourself in your text, fact-check, clean up, rewrite, or condense. Check out this useful reference for comparing the correctness of your work.  The most important thing is to write regularly and then edit it in the future. 
7. Quantity
Utilize word count to set goals, such as 500 words and then a break, for instance. Record your writing output over time using an excel spreadsheet. 
8. Silence
The outside noise can stifle your concentration. Try noise-canceling headphones and music, a silent PC, or earplugs.
9. Affluence and Shame
Instead of racing a 26-mile race, write 26,000 words and invite your friends to support you in helping charities. If you don't accomplish it, you'll not make any money and be embarrassed. There's nothing more compelling than social pressure to keep you on the computer. Alternately (and if it applies to you), keep in mind that you're being paid for your work, but you may not be paid again if you're due.
10. Buddy Writing
A conversation with a partner, even on an open phone line, can boost concentration, provided that you share the same working habits. Peer pressure can keep you both working at a high level. This is also a way to combat the loneliness experienced by a long-distance writer.
11. Chunking
For 45 minutes, write. Take breaks of 15 minutes. Repeat. This is how you can get from nothing to creating your essay and ending it.
12. Make Sure You Tame Your Inner Muse.
Your muse is working for you rather than the opposite. Imagine it as an adamant employee. Set deadlines, tell it to show up to work at a specific time each day, give it praise and feedback and establish what you expect from it.
Author: Joe Eckel
After over 25 years of helping students through their dissertations and theses with great care, Joe Eckel is now sharing his experience through StudyBounty. As a fervent researcher and teacher, he ensures that every student receives valuable insights about writing academic essays that are A-grade.