Hurricane Season
Updated February 21, 2017 |
Factmonster Staff

The deadliest, strongest, and costliest Atlantic storms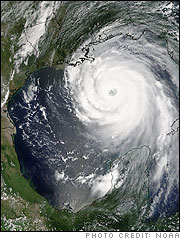 Quizzes and Crosswords
Hurricane Season 2016—Predictions
The major forecasters are calling for Atlantic hurricane activity for 2016 to be a near-normal year. While the long-term averages for the past 65 years are 11 named storms, 6 hurricanes, 3 intense hurricanes, NOAA predicts 10–16 named storms, 4–8 hurricanes, and 1–4 major hurricanes.
Hurricane Season 2015—Review
Hurricane season 2015 had 12 named storms, 2 hurricanes, and 2 major hurricanes. Tropical Storm Erika was the most costly, with $17.4 million in damage, while Major Hurricane Joaquin was the most deadly, killing 34.
Hurricane Season 2014—Review
The 2014 Atlantic hurricane season had below-normal activity. NOAA reports 8 named storms (top winds 39 mph or higher), 6 hurricanes (top winds 74 mph or higher), 2 major hurricanes (category 3–5; winds at least 111 mph). Hurricane Gonzalo was the strongest Atlantic hurricane of 2014, clocking in with 145 mph winds. Gonzalo hit Bermuda, followed by the United Kingdom, where it killed three people.
Hurricane Season 2013—Review
The 2013 Atlantic hurricane season had below-normal activity. TSR reports only 2 hurricanes, no major hurricane, and 13 tropical storms. The U.S. has now gone eight years without a major hurricane landfall--an unprecedented feat since record-keeping began in 1900.
Hurricanes in the U.S.
Hurricane Links
Great Weather Disasters