Information Please - History
Updated February 21, 2017 |
Factmonster Staff

Six Decades of Information Please
From radio quiz show to print almanacs and the Internet
---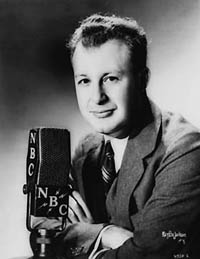 Clifton Fadiman was the original host of the radio quiz show "Information Please."
May 17—on this day in 1938, the NBC Blue Network presented the "Information Please" radio quiz show for the first time.
Moderated by
Clifton Fadiman
, "Information Please" aired from 1938 to 1952 and was the most literate, long-running radio show of its day. The show turned traditional quiz programs on their heads by allowing the public to ask questions of a panel of experts, who would then provide the answers, or at least a reply that was entertaining if not plaus ible.
Listeners from across the country wrote in their questions on topics ranging from performing arts to natural history. Though the contributors were supposed to provide correct answers along with their questions, many did not, and the quiz show quickly evolved into a forum for curious people to find answers to difficult and often obscure questions. The show's creator saw a need for a reference book with these answers, and published the first
Information Please Almanac
in 1947.
Information Please has expanded over the last half century. In addition to the original
Information Please Almanac
, Information Please now publishes an annual almanac geared for
kids
. With the 1998 launch of Infoplease.com, free on-line accessibility to these reference works, as well as a leading dictionary and encyclopedia, became available, providing up-to-date information on a broad range of topics.