Irish Flag
Updated February 21, 2017 |
Factmonster Staff

What's the Symbolism of the Irish Flag?
History and symbolism of the Irish tricolour
---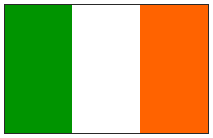 orange — standing for Irish Protestants

green — signifying Irish Catholics and the republican cause

white — representing the hope for peace between them
Why Orange?
Green for the Emerald Isle?
For centuries the green flag of Ireland was a thing accurst and hated by the English garrison in Ireland, as it is still in their inmost hearts...
...the green flag of Ireland will be solemnly hoisted over Liberty Hall as a symbol of our faith in freedom, and as a token to all the world that the working class of Dublin stands for the cause of Ireland, and the cause of Ireland is the cause of a separate and distinct nationality.

—Worker's Republic, April 8, 1916
A Lasting Truce between Orange and Green?
The white in the center signifies a lasting truce between the "Orange" and the "Green," and I trust that beneath its folds the hands of the Irish Protestant and the Irish Catholic may be clasped in generous and heroic brotherhood.
1. Irish revolutionary was just one of Meagher's careers: he was also a prisoner in a Tasmanian penal colony, a New York City lawyer, and a Civil War general for the Union Army.
Advertisement
Advertisement