Lieberman, Joseph: Gore's Presidential Running Mate
Updated February 21, 2017 |
Factmonster Staff

Sen. Joseph Lieberman
Gore's VP choice brings moral compass and rectitude
---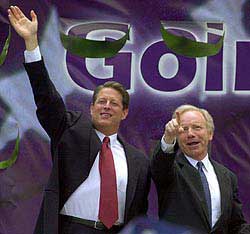 Democratic presidential candidate Al Gore, left, and Sen. Joe Lieberman, D-Conn., wave to the crowd on Aug. 8, 2000, for a rally announcing Lieberman as Gore's running mate.
This article was posted on August 8, 2000.
IN CHOOSING
Sen. Joseph Lieberman as his running mate, Vice President
Al Gore
has essentially followed Gov.
George W. Bush's
lead and named a No. 2 who could shore up his weaknesses and broaden his appeal to swing voters.
Just as Bush selected
Dick Cheney
as his running mate to lend
gravitas
to the ticket, Gore picked Lieberman for his strong
moral compass and rectitude
. The move clearly signals an attempt by Gore to distance himself from
President Clinton's
scandal-ridden
presidency
. It's a fine line for Gore to walk, as he has clearly taken some credit for the prosperity of the Clinton years.
"Conscience of the Senate"
Lieberman, who has been called the "
conscience of the Senate
," was outspoken in his criticism of President Clinton's affair with
Monica Lewinsky
. He voted against both articles of impeachment, however.
VITAL STATISTICS
Joseph Isadore Lieberman


• BORN: Feb. 24, 1942, Stamford, Conn.

• EDUCATION: Stamford High School; B.A., L.L.B., Yale.

• CAREER HIGHLIGHTS: 1971-81, Connecticut state senator; 1975-81, State Senate majority leader; 1983-89, Connecticut attorney general; 1989-present, United States senator from Connecticut; committee member, Armed Services, Environment and Public Works, Small Business, Governmental Affairs; 1999-present, ranking Democrat, Governmental Affairs Committee; 1995-present, chairman, Democratic Leadership Council. Author of five books, most recently, In Praise of Public Life.
"Such behavior is not just inappropriate—it is immoral," Lieberman said of the affair. "It is harmful, for it sends a message of what is acceptable behavior to the larger American family."
In another break with President Clinton and Gore, Lieberman, who's chairman of the
Democratic Leadership Council
, has been an advocate of
campaign finance reform
and a ban on
soft money
.
Independent Thinker
Fiercely independent, Lieberman answers only to his own principles and has broken ranks with the party, defending school vouchers and a capital gains tax cut and joining former Secretary of Education
William Bennett
in his crusade against violent and sexually explicit movies, television shows, and recordings.
While Lieberman has been to the right of Gore on several social issues, he shares the vice president's views on the environment, abortion, gun control, and civil rights. Both men supported U.S. involvement in the
Persian Gulf War
, as well as sending American troops to Bosnia. Lieberman also favors free trade and supports
permanent normal trading relations with China
.
First Jew on a Party Ticket
Lieberman is the first Jew on the ticket of a national party. An
Orthodox Jew
, Lieberman observes the
Sabbath
, which prevents him from working or riding in vehicles from sundown on Friday to sundown on Saturday.
A lifelong Democrat, Lieberman was born on Feb. 24, 1942 in Stamford, Connecticut, to Henry and Marcia (Manger) Lieberman. He graduated from Yale in 1964 and earned a law degree from Yale in 1967. (Gov. Bush graduated from Yale in 1968, and Cheney also briefly studied there.)
As a college student, he did two summer internships in Washington, working for Connecticut's
Sen. Abraham Ribicoff
and the
Democratic National Committee
. He practiced law for a few years before being elected to the
Connecticut State Senate
in 1970. He served for 10 years, serving as majority leader for six years. He lost a 1980 bid for Congress, but was elected attorney general of Connecticut in 1982 and was reelected in 1986. In 1988 he unseated Republican
Sen. Lowell Weicker, Jr.
, and won reelection in 1994. He's running simultaneously for his third term and vice president. Connecticut law permits him to run for both offices.
He has written five books, including
The Scorpian and the Tarantula
and
In Praise of Public Life
. He's married to Hadassah (Freilich) Lieberman. They have one child, Hana, 12. He has two children from a previous marriage, Matthew, 32, and Rebecca, 31. Hadassah has a son, Ethan, 24, from her first marriage.