Tipper Gore - Biography
Updated February 21, 2017 |
Factmonster Staff

Tipper Gore
Making activism her career
---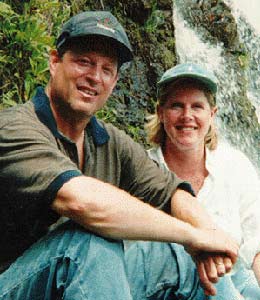 Tipper has been active in causes from violence in the media to homeless awareness.
Although she planned to become a child psychologist, Tipper Gore, wife of Democratic presidential candidate,
Al Gore
, has made activism her career, endorsing various causes from reducing
violence in the media
to helping the
homeless
. At various times she has been employed as a newspaper photographer.
High School Sweethearts
Born on Aug. 19, 1948, in Arlington, VA, Mary Elizabeth Aitcheson acquired the nickname "Tipper" from a nursery rhyme. Her parents divorced when she was four years old and she was raised by her mother and grandmother. Tipper attended St. Stephens and St. Agnes, a private Episcopalian school in Alexandria, Virginia, where she excelled at athletics and played the drums for an all-girl band, the Wildcats.
She met her future husband, son of Tennessee senator Albert Gore, at a high school dance and they were soon dating. When Gore went north to attend Harvard University, Tipper followed, attending Garland Junior College and later Boston College, where she majored in psychology.
Happy To Be A Homemaker
After they were married and living in Tennessee, Tipper got a job as a freelance photographer for the Tennessean, where Gore briefly worked as a reporter. Their first daughter, Karenna, was born in 1973. When Gore was elected to Congress in 1976, Tipper remained in Tennessee to raise their family. Kristin was born in 1977, followed by Sarah, 1979, and Albert Gore III, 1980. She has said she was happy to be a homemaker.
Community Activism
However, Tipper was also active in politics. In 1978 she established the Congressional Wives' Task Force, which publicized childhood nutrition and the effect of television violence on children. She also founded a coalition to raise awareness of homelessness, Families for the Homeless.
Stand Against Violence in Popular Music
Tipper later generated considerable controversy for her stands against sexually explicit lyrics and violent references in popular music. In 1987, Tipper published a book, Raising PG Kids in an X-Rated Society.
Although Gore dropped out of the 1988 presidential race, he was elected vice president with President Bill Clinton in 1992. Tipper has since downplayed her objections to media violence, prompting observers to note that many Hollywood and media executives have been strong allies of the Clinton administration. Instead of media issues, Tipper has shifted her focus to mental health and children's issues, supporting the Children's Health Initiative and the Mental Health Parity Act.
Son Hit by Car
In 1989 the Gores' son Al was hit by a car and nearly killed. It took him a year to recover. Tipper later revealed she had undergone treatment for depression following the accident, which increased her interest in mental health issues.
She takes an active role in the current presidential campaign, while trying to spend time with her family whenever possible.