Narnia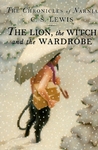 "Narnia? What's that?" said Lucy.

"This is the land of Narnia," said the Faun, "where we are now; all that lies between the lamp-post and the great castle of Cair Paravel on the Eastern Sea. . . ."
—The Lion, the Witch and the Wardrobe
Favorite Chronicle Poll
Which is your favorite Narnia book?
Special Features
It's been 55 (Earth) years since our first visit
The man who created Narnia
Which should you read first?
C. S. Lewis's own chronology of Narnian history
From toffee trees to Turkish delight
Test Your Narnia Knowledge