/ C. S. Lewis: The Creator of Narnia - Biography
C. S. Lewis: The Creator of Narnia - Biography
Updated February 21, 2017 |
Factmonster Staff

by Ann-Marie Imbornoni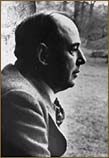 More About C. S. Lewis
C. S. Lewis, or Jack Lewis, as he preferred to be called, was born in Belfast, Ireland (now Northern Ireland) on November 29, 1898. He was the second son of Albert Lewis, a lawyer, and Flora Hamilton Lewis. His older brother, Warren Hamilton Lewis, who was known as Warnie, had been born three years earlier in 1895.
Early Days
Lewis's early childhood was relatively happy and carefree. In those days Northern Ireland was not yet plagued by bitter civil strife, and the Lewises were comfortably off. The family home, called Little Lea, was a large, gabled house with dark, narrow passages and an overgrown garden, which Warnie and Jack played in and explored together. There was also a library that was crammed with books—two of Jack's favorites were Treasure Island by Robert Louis Stevenson and The Secret Garden by Frances Hodgson Burnett.
A Painful Loss
This somewhat idyllic boyhood came to an end for Lewis when his mother became ill and died of cancer in 1908. Barely a month after her death the two boys were sent away from home to go to boarding school in England.
Lewis hated the school, with its strict rules and hard, unsympathetic headmaster, and he missed Belfast terribly. Fortunately for him, the school closed in 1910, and he was able to return to Ireland.
After a year, however, he was sent back to England to study. This time, the experience proved to be mostly positive. As a teenager, Lewis learned to love poetry, especially the works of Virgil and Homer. He also developed an interest in modern languages, mastering French, German, and Italian.
An Oxford Scholar
In 1916 Lewis was accepted at University College, the oldest college (founded 1249) at Oxford University. Oxford, along with Cambridge University, had been a leading center of learning since the Middle Ages. Soon after he entered the University, however, Lewis chose to volunteer for active duty in World War I, to serve in the British Army then fighting in the muddy trenches of northern France.
Following the end of the war in 1918, Lewis returned to Oxford, where he took up his studies again with great enthusiasm. In 1925, after graduating with first-class honors in Greek and Latin Literature, Philosophy and Ancient History, and English Literature, Lewis was elected to an important teaching post in English at Magdalen College, Oxford. He remained at Oxford for 29 years before becoming a professor of medieval and renaissance literature at Magdalene College, Cambridge, in 1955.
Lewis the Writer
In addition to his teaching duties at the University, Lewis began to publish books. His first major work, The Pilgrim's Regress (1933), was about his own spiritual journey to Christian faith. Other works followed that won him acclaim not only as a writer of books on religious subjects, but also as a writer of academic works and popular novels. The Allegory of Love (1936), which is still considered a masterpiece today, was a history of love literature from the early Middle Ages to Shakespeare's time; Out of the Silent Planet (1938) was the first of a trilogy of science fiction novels, the hero of which is loosely modeled on Lewis's friend J.R.R. Tolkien, author of the children's classic The Hobbit.
Narnia
Initially when Lewis turned to writing children's books, his publisher and some of his friends tried to dissuade him; they thought it would hurt his reputation as writer of serious works. J.R.R. Tolkien in particular criticized Lewis's first Narnia book, The Lion, the Witch and the Wardrobe. He thought that there were too many elements that clashed—a Father Christmas and an evil witch, talking animals and children. Thankfully, Lewis didn't listen to any of them.
Following the publication of The Lion, the Witch and the Wardrobe in 1950, Lewis quickly wrote 6 more Narnia books, publishing the final one, The Last Battle, in 1956. Although they were not well received at first by critics and reviewers, the books gained in popularity through word of mouth. The Narnia books have since sold more than 100 million copies and are among the most beloved books of classic children's literature.
The Final Years
After finishing the Narnia series, Lewis continued to write on autobiographical and religious subjects, but less prolifically. Mainly he was preoccupied with the health crises of his wife, Joy Gresham, whom he married in 1956 and who died of cancer in 1960.
After her death, Lewis's own health deteriorated, and in the summer of 1963 he resigned his post at Cambridge. His death, which occurred on November 22, 1963—the same day President Kennedy was assassinated—was only quietly noted. He is remembered, however, by readers the world over, whom he has delighted and inspired for generations.