/ C. S. Lewis: The Creator of Narnia - A Convert to Christianity
C. S. Lewis: The Creator of Narnia - A Convert to Christianity
Updated February 21, 2017 |
Factmonster Staff

A Convert to Christianity
---
Lewis had been raised as a Christian by his parents, who were Protestants. However, it wasn't until he was sent away to boarding school after the death of his mother that he began to read the Bible for himself and to work out his own thoughts on religion. Possibly Christianity offered him some consolation at a time when he was feeling great loneliness and sorrow.

In his teen years, though, Lewis abandoned Christianity. He became increasingly interested in Germanic mythology, which led him to see religion in general as a "kind of . . . nonsense into which humanity tended to blunder." Lewis moved further away from Christianity after he left school in 1914 to be tutored privately by William Kirkpatrick, a family friend who had tutored Lewis's father. Kirkpatrick, who was a staunch atheist, challenged Lewis to think for himself and to abandon conventional ideas about religion.

Later, however, as he entered his early 30s and settled into both his professional and domestic life, Lewis came to a real turning point in his spiritual life. While riding on a double-decker bus in the early summer of 1929, Lewis suddenly felt he had no choice but to acknowledge a belief in God. Shortly afterward, alone in his room at the university, he knelt and prayed.

His reconversion to Christianity was not quite this simple, because it was accompanied by many doubts, inward debates, and discussions with friends. As Lewis explained in a letter to his brother, though, he became a Christian because for him there was nothing else to do. Christianity was to become a central aspect of Lewis's adult life and a subject of many of his writings, including the Narnia stories.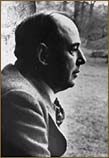 Return
to the
C.S. Lewis Bio