/ C. S. Lewis: The Creator of Narnia - A new Chapter
C. S. Lewis: The Creator of Narnia - A new Chapter
Updated February 21, 2017 |
Factmonster Staff

A New Chapter
---
When Lewis published The Lion, the Witch and the Wardrobe, he was already 50 years old and still living with Mrs. Moore and his brother, Warnie, at The Kilns. As he had never had a serious romantic attachment to a woman, there was little expectation that at this point in his life he would marry. However, in an unexpected twist of fate, this is exactly what came to pass.

In January 1950, Lewis began a correspondence with an American woman, Joy Davidman Gresham. Like many other fans, she had written to Lewis after reading and being inspired by his books, and he had responded. Eventually, Gresham decided to visit England to meet the famous writer, and the two arranged to have lunch together in September 1952. The lunch was a great success, and Lewis invited Gresham to spend Christmas at The Kilns.

At this point, Lewis and Gresham were simply good friends. There was no possibility of a union between them because Gresham was already married. But the marriage was not a happy one, and the couple divorced in 1953. Joy Gresham then moved to England with her two young sons, David and Douglas.

Gradually over time, the relationship between Lewis and Gresham became more serious. Still, there was some hesitancy about taking the next step. Then in 1956 a crisis occurred, when the British immigration service refused to renew Gresham's visa, which meant that she'd have to return to the United States. Rather than have that happen, Gresham and Lewis decided to marry so that Gresham could stay in Britain legally, as the wife of a British citizen. It would be a marriage in name only, though, and they would remain good friends as before.

Another crisis soon pushed the relationship further. Only a few months after their "civil" marriage, Joy Gresham was diagnosed with cancer. As the disease had spread throughout her body, the doctors held out little hope for her survival. It was at this point that Lewis realized just how much he loved her. In March of 1957, the two were married again, this time by an Anglican priest, in a bedside ceremony at the hospital.

Although Joy's health improved during the next year, enough so that the Lewises could take a belated honeymoon in Wales and Ireland, the cancer returned in 1959. She died on July 13, 1960.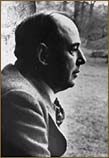 Return
to the
C.S. Lewis Bio