Prince William | Royal Biographies
Updated February 21, 2017 |
Factmonster Staff

by David Johnson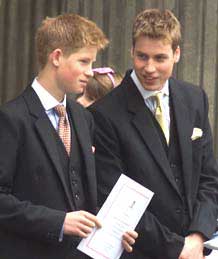 Prince William and his younger brother, Prince Henry (Source:AP)
Related Links
With his dashing good looks and self-effacing charm, Prince William Arthur Philip Louis has emerged as the royal family's major sex symbol. Much of the public adoration of his mother, Diana, appears to have been transferred to William. Several hundred web sites, most of them apparently put together by infatuated young women, are dedicated to William.
Second in line to the throne behind his father, William was born on June 21, 1982.
With outings to such places as amusement parks and McDonalds, Diana tried to show her children a bit of ordinary life. She also pleaded with the media to spare them from relentless press coverage. After graduating from Eton College, Windsor, William took a year off from school.
He had wanted to spend his year off playing polo in Argentina, but his father nixed the idea as "too decadent." He instead spent some time on army maneuvers in Belize, working on community projects in southern Chile, and visiting Africa. Although he does not undertake official engagements on his own, William does attend events with his family.
In 2001 he began attending prestigious St. Andrews University in Scotland. Originally studying art history, he later switched to geography. As heir to the throne and the future head of the Church of England, William's schooling and general upbringing are subject to approval by the Queen, Prince Philip, the Archbishop of Canterbury, and a subcommittee of royal advisers. This is also where he met his future wife, Catherine Middleton.
William entered the Royal Military Academy Sandhurst in January 2006, joining his younger brother Harry who then graduated in April 2006.
On April 29, 2011, William married Kate (Catherine) Middleton in a lavish ceremony at Westminster Abbey.
After the ascension of his father to the throne as King Charles III, following the death of Queen Elizabeth II on September 8, 2022, William is now the direct heir apparent to the throne of England.