From Reel Love to Real Love
Updated February 21, 2017 |
Factmonster Staff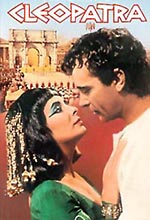 Burton and Taylor's passion burned so hot that they simply had to get married... twice.

Cleopatra (1963)
Elizabeth Taylor and Richard Burton

At first, she thought he talked too much; he disparagingly dubbed her "Miss Tits." But one day on the set of Joseph L. Mankiewicz's extravagant trip up the Nile, Elizabeth Taylor helped a shaking, hungover Richard Burton lift a coffee cup to his lips. And so began a love affair as big and stormy as the $40 million production they met on. "Without you, this is not a world I want to live in," her Cleopatra whispers to his Marc Antony in a love scene hotter than the Egyptian sun. Taylor and Burton paired up in several more films and married twice, but ultimately found that they could indeed live in this world without one another.

The Getaway (1972)
Ali MacGraw and Steve McQueen

McQueen and MacGraw's screen-inspired romance wasn't enough to keep them together.

Though critic Pauline Kael would scoff at this onscreen pairing ? "her head is bigger than his" ? most reviewers agreed it was the first time the gritty McQueen generated any sexual heat onscreen. Yes, the two were a curious couple: He was a former reform school student and an ex-Marine with a passion for mechanics; she a Wellesley graduate and former Chanel model who didn't know how to drive. Yet The Getaway, Sam Peckinpah's visceral spray of blood-and-guts, works largely because of their obvious magnetism for each other. The two married shortly after filming, but broke up five years later when McQueen's real-life rebelliousness got out of hand.


Days of Thunder (1990)
Nicole Kidman and Tom Cruise

After spying the copper-curled Nicole Kidman in Dead Calm, Tom Cruise summoned the Aussie actress to America to join him for this sputtering race-track drama. "The very first time we met, I discovered what a charming and tender man he is," sighed Kidman. "He must be every woman's dream." Lucky girl. However, whatever mutual attraction they share in their nearly 10-year-old marriage is sadly extinguished onscreen; neither Days of Thunder nor a later pairing, Far and Away, raises temperatures. Mr. and Mrs. Cruise continued their on-screen romance with Stanley Kubrick's last film, Eyes Wide Shut.


Back to the Beginning